Entrepreneurship surged in 2022, especially among women and minority business owners, as self-employment rates climbed above pre-Pandemic levels. Scaling to meet the evolving needs of historically underserved small business owners, DreamSpring grew its reach and impact in 2022.
Our just-released 2022 Annual Report lays out how DreamSpring served more than 12,000 small businesses across 27 states — the first time the nonprofit Community Development Financial Institution (CDFI) made loans in more than half of the United States since it began operations in 1994. DreamSpring also launched new credit-repairing loan products and deployed comprehensive community engagement initiatives to build entrepreneurial financial health.
We deployed nearly $72 million to support small business owners in 2022, at an average loan size of $17,497. Our small business clients created or sustained more than 9,150 U.S. jobs in one year alone.
In addition to impact statistics for 2022, the Annual Report puts a spotlight on entrepreneurs who have grown their businesses and credit history with DreamSpring. Stories like those of Tavares James, founder of Lifeline Education Connection in Charlotte, North Carolina, demonstrate the ripple effect that financial inclusion carries into communities — and lives.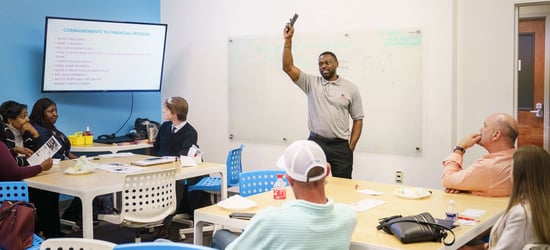 Tavares James, owner of Lifeline Education Connection in Charlotte, NC, stands in front of a classroom of students.
"DreamSpring was one of the only people at the time that believed in this,"

says Tavares, describing his mission to teach financial literacy and entrepreneurial skills to people who are struggling with addiction and other challenges.

"I know that their personal commitment is to helping people. I got new friends now. And I tell everybody the same thing: DreamSpring gave me a shot."
Our Annual Report also reflects the expansion of DreamSpring's national Board of Directors to 10 members, as well as announcing new leadership roles for the board. Ginny Bayless, Kim Peone, and Anthony Sharett joined in the first quarter of 2022, and Alice Rodriguez came on as DreamSpring's tenth board member after concluding her tenure as Chair of the United States Hispanic Chamber of Commerce.
With expertise in banking, law, business and financial strategy, indigenous entrepreneurship, and community impact, DreamSpring's diverse board leadership drives our mission of economic equity and inclusion. DreamSpring's board representation is 70% people of color and 60% women. See the full lineup of DreamSpring Board of Directors in our 2022 Annual Report.