For Immediate Release
Contact: Laura Marrich, Senior Communications Specialist
lmarrich@dreamspring.org | 505-456-0104
Santa Fe & Albuquerque (June 21, 2022) — The Southwestern Association for Indian Arts (SWAIA) and DreamSpring have announced a strategic partnership designed to get more capital into the hands of Native American entrepreneurs and small business owners.
This partnership brings together SWAIA, the non-profit indigenous arts organization renowned for organizing the annual Santa Fe Indian Market, and DreamSpring, an award-winning nonprofit community development financial institution (CDFI) that increases access to credit, makes loans, and provides support to help entrepreneurs realize their dreams.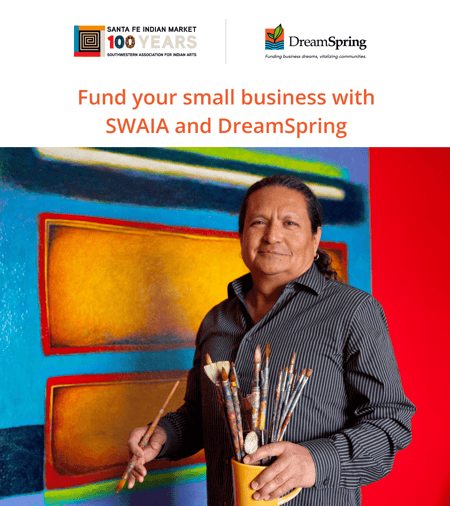 The trusted partnership between SWAIA and DreamSpring is critical, as Native communities are still widely underrepresented in mainstream financial services. A 2019 Federal Deposit Insurance Corporation (FDIC) survey found that 16.3% of all Native households are unbanked (not served by any bank or financial institution) — the highest rate of unbanked households in the U.S. This lack of access to financial support is a barrier that prevents Native entrepreneurs from pursuing their dreams and achieving success on their own terms.
The SWAIA-DreamSpring alliance is designed to connect Native entrepreneurs with the capital they need to fund their businesses, while building credit and expanding business networks along the way. Native-owned small business owners, including artists who participate in the Santa Fe Indian Market, can access DreamSpring's resources and support even if they are unbanked or underbanked.

Partnership products include small business loans, #TrueGrit Growth Loans (for businesses recovering from the pandemic), and a Power Line of Credit (a fixed-rate, 24-month revolving line of credit). Applications can be completed online or with in-person support from lenders who are experienced in navigating diverse financial realities.
"We believe human potential is unleashed when all people have the opportunity to shape their own future," says Anne Haines, President/CEO and Founder of DreamSpring. "Partnering with SWAIA, we have a tremendous opportunity to break down systemic barriers and advance economic inclusion among Native entrepreneurs, who are powerful catalysts for transformation. Every Native-owned small business represents a thread that strengthens the fabric of communities.
"At SWAIA, we inspire artistic excellence, foster education, and create meaningful partnerships that showcase how remarkable Native arts and culture can be," says Kim Peone, CEO of SWAIA. "By working with DreamSpring, our creators can turn possibilities into opportunities and fund their futures. This alliance taps into the ingenuity of Native artists and entrepreneurs by providing the capital to bring their imaginings to life."
For more information on the SWAIA-DreamSpring partnership, to apply, or to learn more about the financial products available to entrepreneurs, contact DreamSpring at DreamSpring.org or 1-800-508-7624. For more information on SWAIA and the Santa Fe Indian Market, please visit swaia.org.
---
About SWAIA
The Southwestern Association for Indian Arts (SWAIA) is a non-profit organization supporting Native American arts and culture. It creates economic and cultural opportunities for Native American artists by producing and promoting the Santa Fe Indian Market, the biggest and most prestigious Indian art event in the world since 1922; cultivating excellence and innovation across traditional and non-traditional art forms; and developing programs and events that support, promote, and honor Native artists year-round. Learn more at SWAIA.org.
About DreamSpring
DreamSpring is a nonprofit community lender dedicated to eliminating systemic wealth inequities and accelerating the economic inclusion and strength of underserved communities. Founded in 1994, the organization, which operates in 19 states, provides rapid access to capital and customized wrap-around support to the most vulnerable small business owners, focusing on communities including people of color, women, low- to moderate-income earners, people with disabilities, and start-ups. To date, DreamSpring has issued more than 42,000 loans totaling over $465 million to small businesses that support an estimated 72,000 jobs. Learn more at DreamSpring.org.