Corporate and institutional partners are paving the way for small business success
In 2022, DreamSpring expanded across 27 states to reach underserved entrepreneurs and fill critical capital gaps. By offering small business loans and lines of credit alongside tools, resources, and guidance to grow, DreamSpring creates new access points for startup and existing entrepreneurs.
DreamSpring's service map as of December 2022
Our work wouldn't be possible without committed, passionate institutional partners advocating for small business success. Major partners contributing to DreamSpring's mission-driven work in 2022 included American Express, Bank of America, Bank of the West, the U.S. Economic Development Administration, U.S. Bank, USAA, the Hearst Foundations, and others.
"Thanks to the generosity of our partners, record numbers of small business owners can work for themselves, realize their dreams, and be hubs of economic development in their communities," says Logan Thompson, DreamSpring's Head of Philanthropy. "We are incredibly grateful to every partner and individual working with us, especially the institutional partners making major commitments to our cause."
Strategic corporate and institutional partnerships empower local communities across the country, especially as DreamSpring grows. This year, DreamSpring expanded into Alabama, Louisiana, Michigan, Mississippi, Ohio, Pennsylvania, South Carolina, and Tennessee — growth these partnerships helped make possible.
"Our support of underserved entrepreneurs is catalytic," says DreamSpring Founder and President/CEO Anne Haines. "It has the power to change not only the daily lives of individual business owners, but the future of their families, neighborhoods, and entire communities. The more we nurture economic mobility and opportunity of underserved entrepreneurs, the more vital and resilient our communities become."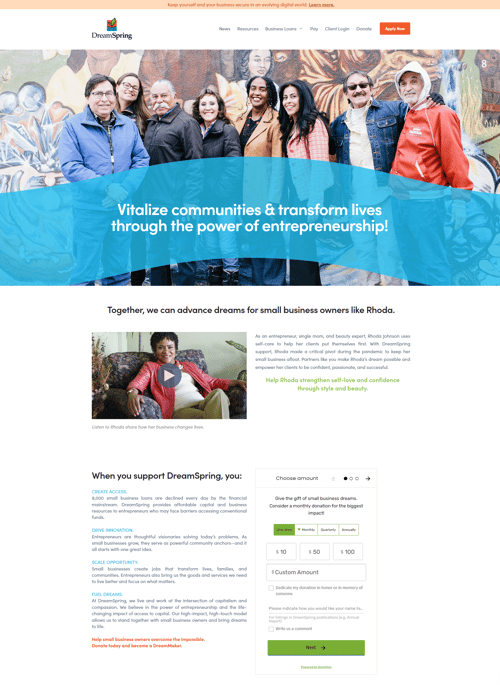 DreamSpring's giving web page as of December 2022.
As DreamSpring prepares for a new year ahead, full of ambitious economic impact goals, partnerships are needed more than ever. To learn about how to partner with DreamSpring, visit our giving page or contact our philanthropy team at gifts@DreamSpring.org.
---
DreamSpring is a nonprofit community lender dedicated to eliminating systemic wealth inequities and accelerating the economic inclusion and strength of underserved communities. Founded in 1994, the organization provides rapid access to capital and customized wrap-around support to the most vulnerable small business owners in 27 states, focusing on communities including people of color, women, low- to moderate-income earners, people with disabilities, and start-ups. To date, DreamSpring has issued more than 42,000 loans totaling over $465 million to small businesses that support an estimated 72,000 jobs. Learn more at DreamSpring.org.