Unique partnership between nonprofit lender and fintech platform matches community investments to double capital available to small business owners.
Albuquerque and Pittsburgh (August 25, 2022) — DreamSpring, a Community Development Financial Institution (CDFI), and Honeycomb Credit, a first-of-its-kind loan crowdfunding platform, have joined forces to help entrepreneurs get the financing they need to grow their small businesses.
Rather than taking out a loan from a bank, small business owners raise loans that pay back their communities through the Honeycomb platform. Businesses are then eligible for a matching loan from DreamSpring, roughly doubling the capital they receive in order to meet or exceed their funding goals.
DreamSpring has committed to matching $1.6M of crowdfunded loans, for a combined impact of $3.2M in small business loans through the partnership.
"This collaboration between Honeycomb, a venture-backed community capital startup, and DreamSpring, a CDFI, shows what can be possible when two mission-driven organizations collaborate to bridge the small business lending gap," says Honeycomb CEO George Cook.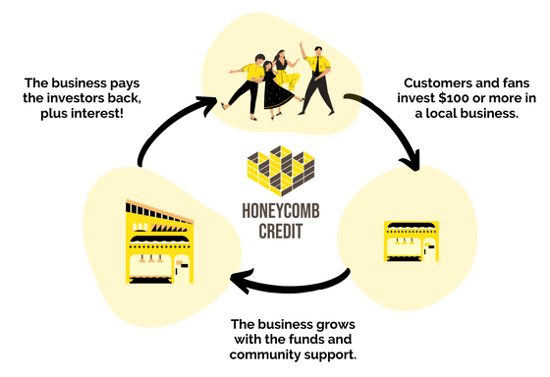 Honeycomb's model encourages small businesses to receive investments from their community to build local community wealth. With DreamSpring as a partner that matches Honeycomb loans, more small businesses can meet their full capital needs, whether it's for hiring employees, buying needed equipment, or expanding their footprint.
"Alternative financing is more important than ever, as underserved entrepreneurs face not only systemic barriers to accessing capital, but increased business costs, high inflation, and rising bank interest rates as well," says DreamSpring Chief Operations & Innovation Officer Francisco Lopez. "The partnership between DreamSpring and Honeycomb empowers entrepreneurs to get the critical funding they need to scale their business capacity and better serve their communities."
Honeycomb Credit's Regulation Crowdfunding platform lets people invest as little as $100 in their favorite businesses and receive quarterly interest repayments. In turn, more than 80% of businesses that have crowdfunded through Honeycomb have reached their funding goals — nearly four times the crowdfunding industry average. So far, the Honeycomb community has invested over $13 million in local businesses across more than 12,000 individual investments.
DreamSpring has issued nearly half a billion dollars in small business loans since its inception almost 30 years ago. In 2022, the nonprofit CDFI has placed 93% of its funding into the hands of underserved entrepreneurs. DreamSpring is ranked as one of the top five microlenders in the U.S. and has earned a 4-star rating for nine consecutive years from Charity Navigator, placing it in the top 3% of rated charities.
In the weeks since launching, the partnership between DreamSpring and Honeycomb Credit has already yielded hundreds of thousands of dollars in lending activity to woman-, People of Color-, and LGBTQIA+-owned businesses. For more information on starting an investment campaign or obtaining a loan, visit honeycombcredit.com or DreamSpring.org.
Honeycomb Credit and DreamSpring
Partnership Client Stories
---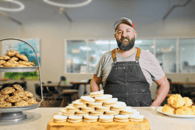 Wesley Dills
The Bearded Baking Company
Austin, TX | thebeardedbakingcompany.com
---
Honeycomb Credit is a community capital platform based in Pittsburgh that unlocks capital for small businesses from an unconventional and innovative source—their fans, friends, and community. By crowdfunding a small business loan, entrepreneurs create deeper relationships with their community and investors earn a return while supporting local businesses they love. For more information, visit honeycombcredit.com.
DreamSpring is a nonprofit community lender dedicated to eliminating systemic wealth inequities and accelerating the economic inclusion and strength of underserved communities. Founded in 1994, the organization, which operates in 26 states, provides rapid access to capital and customized wrap-around support to the most vulnerable small business owners, focusing on communities including people of color, women, low- to moderate-income earners, people with disabilities, and start-ups. To date, DreamSpring has issued more than 42,000 loans totaling over $465 million to small businesses that support an estimated 72,000 jobs. Learn more at DreamSpring.org.
For Further Information:
Laura Marrich, DreamSpring
Phone: 505-456-0104
Topiltzin Gomez, Honeycomb Credit
Phone: 847-693-6601