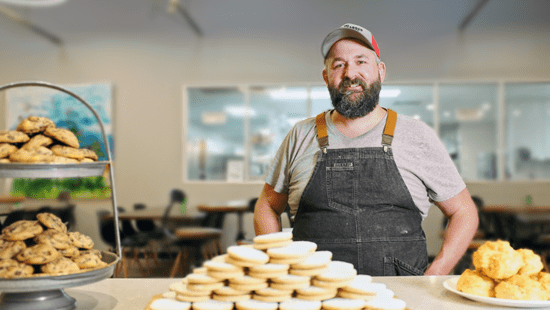 Wesley Dills
Owner of The Bearded Baking Company in Austin, Texas
Wesley Dills perfected his first cookie by the tender age of 15. His deceptively simple snickerdoodles — with a crackling cinnamon crumb that gives way to a chewy vanilla center — were the first thing he entered in the Wayne County Fair. To the high school freshman's surprise, he took home the blue ribbon. And he kept winning it, every year, for more than a decade thereafter. The proof was in the pudding: Wesley was born to bake.

For a "queer country boy from North Carolina," food was a passport to other places and times. Wesley seized on family recipes from the coast (his mother's terrain) and the mountains (his father's stomping grounds). He unearthed antique gems, including Grandma Pearl's Depression-era coconut cake. He worked his way up the Atlantic to discover Maryland's 10-layer Smith Island cake and to attend the prestigious culinary arts program at Johnson and Wales in Providence, Rhode Island. Along the way, Wesley grew a beard (presumably to catch all those delicious crumbs) and married his sweetheart.
Looking for an adventure, Wesley and his husband moved from North Carolina to Austin, Texas. The couple had fallen in love with Austin's inclusive, friendly, foodie-y culture. It felt like the perfect place to realize Wesley's lifelong dream of owning a bakery. Step One: Sign the lease on a shared commissary kitchen space. The Bearded Baking Company was born.
Despite opening during the darkest days of the pandemic, The Bearded Baking Company has earned a loyal following of "beardies." Wesley's customers can't get enough of his cakes, bars, and infamous C4 cookies — quarter-pound mounds bursting with an "absurd amount" of chocolate chips, nuts, and other goodies. The Bearded Baking Company offers its baked-to-order treats and savory breakfast sandwiches for catering, pick-up, and delivery.
As The Bearded Baking Company's reputation has grown, solidified by Wesley's spot on a Food Network Halloween baking challenge, the bakery has outgrown its shared commissary space. "I'm a big guy, and it's pretty cramped," Wesley admits. Not only does he need a bigger kitchen for ever-increasing orders, he also needs more creative space for the full lunch and dinner menus percolating in his head. The cherry on top? Wesley wants café seating, where his customers can have their cake and eat it, too.
"It's important for us to be a part of this area so that we can accept new people into our neighborhood," he says, "and we can make them feel just as accepted as we were." Step Two: Get funding for a private kitchen with a customer-facing storefront.
To make that happen, Wesley engaged in a first-of-its kind partnership between Honeycomb Credit, a venture-backed community capital startup, and DreamSpring, a nonprofit Community Development Financial Institution (CDFI). He launched a Honeycomb crowd-funding investment campaign to generate $48,000 in micro-loans from supporters across Austin and the U.S. He then turned to DreamSpring to finance the remaining $47,000 he needs to complete his vision.
With funding in place from Honeycomb Credit and DreamSpring, Wesley can secure a brick-and-mortar location, obtain a delivery vehicle, and buy more kitchen equipment. According to his business plan, combining all those ingredients will allow him to triple his output. But increasing his production volume is just the icing on the cake.
That's because baking means much more to Wesley than a dependable paycheck. His food is about storytelling and hospitality — welcoming people into a deeply personal experience that's worth sharing.
"My mission is to create a space that celebrates who I am, where I come from, and the people that have shaped me into the person I am today," he says.
Backed by a network of people who believe in The Bearded Baking Company as much as he does, Wesley is making his sweet business dreams come true with help from Honeycomb Credit and DreamSpring. "Through the support of my husband, family, and an amazing community of beardos, my dream of having my own space is within reach," he says. Step Three: Find the perfect location to move into. And then kiss your diet goodbye. "All I can say is, y'all better come hungry," Wesley says, "'cause we are gonna be eatin' good!"