Savoy, the leading African American business and lifestyle magazine, announces its most prestigious list to date of the Most Influential Black Executives in Corporate America in their Summer issue, available at SavoyNetwork.com and Amazon.
Albuquerque (July 19, 2022) – For the second time in three years, Savoy magazine has recognized DreamSpring Board Member and Comerica Bank Chief Community Officer Irvin Ashford, Jr. as one of its Most Influential Black Executives, a definitive listing of African American executives, influencers and achievers impacting corporate America.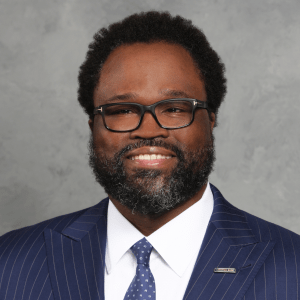 "Savoy is proud to present the 2022 Most Influential Black Executives in Corporate America. In this issue, we assembled an elite representation of African American men and women who have been recognized for their executive and business leadership in national and global-leading corporations," said L.P. Green, II, Publisher of Savoy magazine. "These innovative trailblazers have led efforts to foster growth for some of the country's highest-performing companies throughout and beyond the US market."
Ashford, who also earned this accolade in 2020, oversees community reinvestment nationally and all associated activities, including community development and investments, volunteerism and data analysis, and ensures adherence to fair and responsible banking practices. Additionally, Ashford leads Comerica's diversity business resource groups. Ashford previously served as Comerica's National Director of Financial Education and External Affairs and maintains these responsibilities in his current role.

Ashford has served on the DreamSpring Board of Directors since October 2021. DreamSpring strategically selected Ashford, who is based in Dallas, because of his national leadership experience with Comerica and his longstanding commitment to championing financial inclusion.
"The strategic partnerships and award-winning financial education programs Irv and his team have cultivated and implemented over the last 22 years at Comerica has positioned our company to be a corporate social responsibility leader in the financial services industry," said Comerica's Wendy Bridges, Executive Vice President of Corporate Responsibility. "This well-deserved honor represents the integral role Irv plays in delivering on the Comerica Promise of "Raising Expectations of What a Bank Can Be" in the communities where we live and serve."
Savoy's Summer issue also features an article pinned by Ashford — "Raising Career Aspirations," offering career advice for young professionals and aspiring executives (page 260).
The selection of the "Most Influential Black Executives in Corporate America" begins by examining the landscape of spheres of influence impacting Savoy's readership including corporate sector influence, scholastic achievement, career growth, community outreach and recognition. The information received from over 500 prospective candidates in diverse fields was pre-screened by the selection committee.
The selection committee includes the Savoy editorial board and community leaders with representatives from the academic and business arenas. The committee reviewed information on executives in human resources, information, real estate, finance, investment banking, diversity, foundations, procurement, business development, marketing, sales, health care, manufacturing and legal. After reviewing all the profiles, the field of candidates were narrowed to the "2022 Most Influential Black Executives in Corporate America" listing based upon their exemplary record of accomplishments and influence while working to better their community and inspire others.
Savoy's full 2022 Most Influential Black Executives in Corporate America listing is available online as of July 18, 2022 exclusively at savoynetwork.com. The Summer issue of Savoy magazine is available for purchase online at www.savoynetwork.com/shop and Amazon.
---
About Savoy

Savoy magazine is a national publication covering the power, substance and style of African American lifestyle. From entertainment to sports, business to politics, design to style, Savoy is a cultural catalyst for the African American community that showcases and drives positive dialogue on and about Black culture. Savoy is published quarterly and distributed via subscriptions and newsstands worldwide.
Comerica Bank is a subsidiary of Comerica Incorporated (NYSE: CMA), a financial services company headquartered in Dallas, Texas, and strategically aligned by three business segments: The Commercial Bank, The Retail Bank, and Wealth Management. Comerica focuses on relationships, and helping people and businesses be successful. In addition to Texas, Comerica Bank locations can be found in Arizona, California, Florida and Michigan, with select businesses operating in several other states, as well as in Canada and Mexico. Comerica reported total assets of $89.2 billion as of March 31, 2022.
DreamSpring is a nonprofit community lender dedicated to eliminating systemic wealth inequities and accelerating the economic inclusion and strength of underserved communities. Founded in 1994, the organization, which operates in 19 states, provides rapid access to capital and customized wrap-around support to the most vulnerable small business owners, focusing on communities including people of color, women, low- to moderate-income earners, people with disabilities, and start-ups. To date, DreamSpring has issued more than 42,000 loans totaling over $465 million to small businesses that support an estimated 72,000 jobs. Learn more at DreamSpring.org.
For further information:

Carmen Branch, Comerica Bank
214-462-6681 | crbranch@comerica.com
Laura Marrich, DreamSpring
505-456-0104 | lmarrich@dreamspring.org