DreamSpring Board Member and Robinson Waters & O'Dorisio, P.C. (RWO) shareholder Betty Arkell has been appointed to serve on Colorado's nine-person Venture Capital Authority Board (VCA) by Colorado Governor Jared Polis.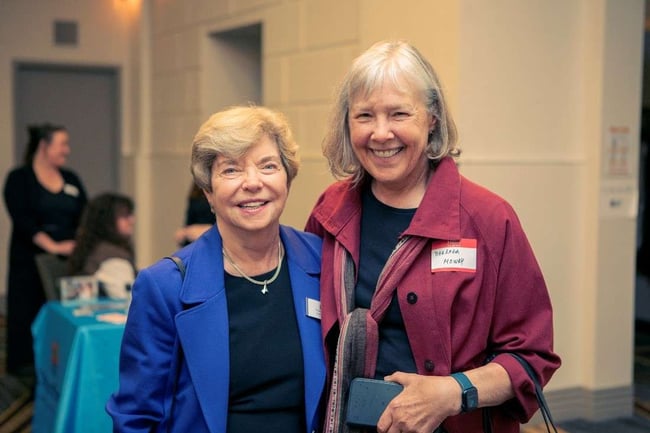 Betty Arkell, DreamSpring Board Member, with Barbara Mowry, owner of GoreCreek Advisors, at the Fall 2022 DreamSpring Board Convening in Denver, CO
The VCA supports access to venture capital for Colorado's entrepreneurs and startup businesses. Originally established by the Colorado legislature as a funding program in 2004, the VCA fills a gap in private capital markets and provides seed and early-stage capital to Colorado companies. The VCA board partners with professional fund managers to deploy its capital.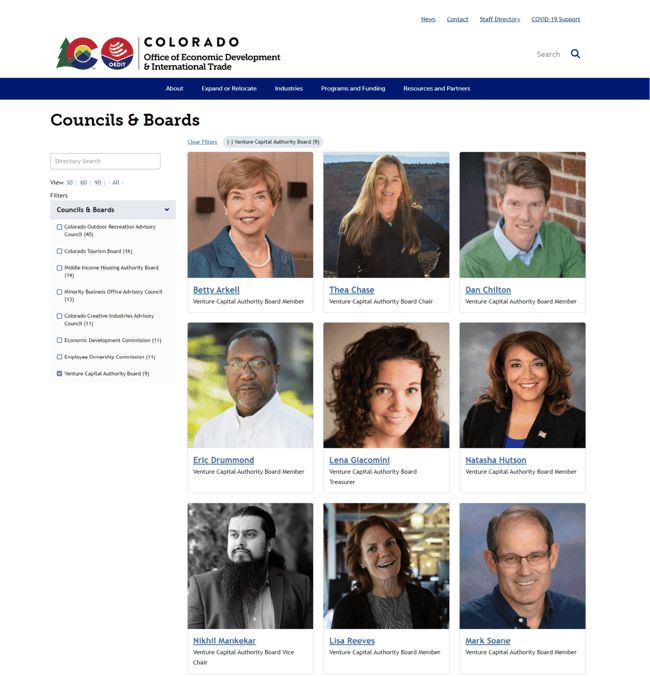 Venture Capital Authority Board Members as of January 2023

In her work with RWO, Betty is a corporate and private securities lawyer specializing in venture capital and private equity investments, debt financings, mergers and acquisitions, corporate restructurings, and corporate governance. Her clients include established and emerging growth companies as well as institutional and individual investors in those companies. She works with clients in a variety of industries, including software, technology, telecommunications, analytics, medical devices, healthcare, fintech, and manufacturing. Betty is also highly involved in community and nonprofit organizations, including sitting on the DreamSpring Board of Directors, where she has served since 2017.
DreamSpring strategically selected Betty, who is based in Denver, because of her expertise as a corporate lawyer, including advising established and emerging growth companies as well as venture capital and private equity funds, and her passion for grassroots entrepreneurship.

She also serves on the Board of Advisors of the Ludeman Center for Women's Health Research (CU Anschutz), as well as the Boards of Directors of WorkLife Partnership, Rockies Venture Club, and the Colorado Technology Association. Betty was counsel to the Venture Capital Association of Colorado at the time of its formation.
"I congratulate Betty Arkell on her well-deserved appointment to Colorado's Venture Capital Authority Board," says DreamSpring Board of Directors Chair Edmond Johnson. "Betty's singular depth and breadth of knowledge and passion for advancing equitable entrepreneurship makes her an ideal VCA board member — and one who I know will serve Colorado's start-up community with clarity, vision, and compassion."
---
About Robinson Waters & O'Dorisio, P.C.

Established in 1977, Robinson Waters & O'Dorisio P.C. is a full-service law firm delivering exceptional representation to businesses and individuals. The firm's lawyers serve clients throughout the Rocky Mountain region. Its comprehensive legal practice includes litigation, commercial transactions, mergers and acquisitions, venture capital, real estate, tax, franchise, and family law. Robinson Waters & O'Dorisio P.C. is a U.S. News Best Lawyers® 2021 Best Law Firm, and the law firm and its lawyers are listed in the current edition of Chambers USA. The firm is also a member of TAGLaw, which has been identified by Chambers USA as an elite global alliance. Visit rwolaw.com for more information.
DreamSpring is a nonprofit community lender dedicated to eliminating systemic wealth inequities and accelerating the economic inclusion and strength of underserved communities. Founded in 1994, the organization provides rapid access to capital and customized wrap-around support to the most vulnerable small business owners in 27 states, focusing on communities including people of color, women, low- to moderate-income earners, people with disabilities, and start-ups. To date, DreamSpring has issued more than 42,000 loans totaling over $465 million to small businesses that support an estimated 72,000 jobs. Learn more at DreamSpring.org.
About the Venture Capital Authority
The Venture Capital Authority (VCA) supports access to venture capital for Colorado's entrepreneurs and startup businesses. The VCA is a political subdivision of the state and a Special Purpose Authority like the Public Employees' Retirement Association. Authorized by the State legislature in 2004, the VCA was initially funded with $45 million. The initial funds have been returned and are being used to make new equity investments; the VCA has partnered in four funds to date investing in businesses statewide. Learn more at oedit.colorado.gov/venture-capital-authority.