DreamSpring joins the ranks of Canva, Microsoft, SpaceX, and more.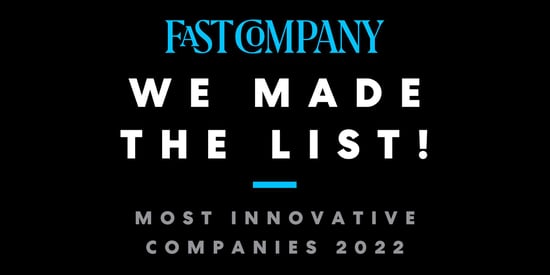 For Immediate Release
Contact: Amber Kani, Director of Communications
akani@dreamspring.org | 505-317-5154
Albuquerque (March 8, 2022) — DreamSpring has been named to Fast Company's prestigious annual list of the World's Most Innovative Companies for 2022.
This year's list honors businesses and nonprofits that are making the biggest impact on their industries and culture as a whole—ultimately thriving in today's ever-changing world. These companies are creating the future today with some of the most inspiring accomplishments of the 21st century. In addition to the World's 50 Most Innovative Companies, 528 organizations are recognized across 52 categories.
DreamSpring, a nonprofit community development financial institution and small business lender, was recognized for technological innovations that enabled the organization to rapidly scale over the past two years, which were a critical period for small businesses across the country.
"We believe that human potential is unleashed when all people have the opportunity to shape their own future," said Anne Haines, DreamSpring's founder and President/CEO. "We exist to break down systemic barriers that inhibit that reality for people, and we do it through entrepreneurship. As the needs of small business owners evolve, our team will continue to create innovative solutions that carry a transformational impact."
DreamSpring launched a strategic vision in 2019 to scale tenfold by 2024. With a combination of innovative partnerships, philanthropic support, and a savvy approach to technology, DreamSpring was able to surpass its ambitious goal last year.
In 2021, DreamSpring provided $225 million in capital through 26,000 small business loans – a significant increase in volume over prior years. To respond to the unprecedented demand from small business owners, DreamSpring invested in technological enhancements that expedited loan decisions and streamlined the client experience. With funding and ongoing resources provided by the organization, DreamSpring clients created or retained 44,300 jobs despite economic uncertainty.
"We are powered by technology and a commitment to economic justice," said Francisco Lopez, DreamSpring's Chief Operations and Innovation Officer. "The combination of a tech-enabled approach and a deep mission focus continue to drive us forward."
Fast Company's editors and writers sought out the most groundbreaking businesses across the globe and industries. They also judged nominations received through their application process.
The World's Most Innovative Companies is Fast Company's signature franchise and one of its most highly anticipated editorial efforts of the year. It provides both a snapshot and a road map for the future of innovation across the most dynamic sectors of the economy.
"The world's most innovative companies play an essential role in addressing the most pressing issues facing society, whether they're fighting climate change by spurring decarbonization efforts, ameliorating the strain on supply chains, or helping us reconnect with one another over shared passions," said Fast Company Deputy Editor David Lidsky.
For the second year in a row, to coincide with the issue launch, Fast Company will host its Most Innovative Companies Summit on April 26–27. The virtual, multiday summit celebrates the Most Innovative Companies in business, and provides an early look at major business trends and an inside look at what it takes to innovate in 2022. Fast Company's Most Innovative Companies issue (March/April 2022) is available online here, as well as in-app form via iTunes, and on newsstands beginning March 15. The hashtag is #FCMostInnovative.
---
About DreamSpring
DreamSpring is a nonprofit community lender dedicated to eliminating systemic wealth inequities and accelerating the economic inclusion and strength of underserved communities. Founded in 1994, the organization, which operates in 19 states, provides rapid access to capital and customized wrap-around support to the most vulnerable small business owners, focusing on communities including people of color, women, low- to moderate-income earners, people with disabilities, and start-ups. To date, DreamSpring has issued more than 42,000 loans totaling over $465 million to small businesses that support an estimated 72,000 jobs. Learn more at DreamSpring.org.
About Fast Company
Fast Company is the only media brand fully dedicated to the vital intersection of business, innovation, and design, engaging the most influential leaders, companies, and thinkers on the future of business. Headquartered in New York City, Fast Company is published by Mansueto Ventures LLC, along with our sister publication Inc., and can be found online at www.fastcompany.com.