Money 20/20 ranks among the top annual fintech and financial services conferences in the world. Hosted every Fall in Las Vegas, and attended by approximately 7,500, the event bills itself as the heart of the fast-paced and high-stakes world of payments, banking, fintech and financial services.
To be invited to present is a rare chance to make news and launch global movements. DreamSpring was there recently to do just that.
For the first time in DreamSpring's 27-year history, Money 20/20 organizers selected the nonprofit to lead one of its coveted panel discussions. Headlined "MissionTech: A Response to a Financial Crisis for the Underserved," the 30-minute presentation highlighted how, in the midst of the COVID-19 economic crisis, DreamSpring, as a forward-thinking Community Development Financial Institution (CDFI), built and implemented an innovative and replicable lending model with long-term promise to make finance more inclusive and equitable.
Speakers comprised a trio of subject matter experts and DreamSpring partners:
Francisco Lopez, DreamSpring's Chief Operations & Innovation Officer, an immigrant from Mexico, the product of a small business family, and the first generation to go to college. "When I had the opportunity to join a CDFI, I felt somebody like me had the responsibility to work to help underserved entrepreneurs as much as I can."
Denada Ramnishta, general manager and head of Corporate Strategy at Lendio, who grew up in Albania among a family of business owners. "I have lived the journey of entrepreneurship not just in terms of the combination of grit, grind, and gratitude, but also in terms of what entrepreneurship contributes to communities."

Reba Dominski, Executive Vice President, Chief Social Responsibility Officer and President of U.S. Bank Foundation, who served as moderator, was born in India and raised with her sister by a single mom. "She taught us two core values: service and the importance of education as a path out of poverty and into opportunity."
Their discussion began with data that grabbed the attention of philanthropists, investors, and economists alike – statistics indicating the gravity of barriers in lending and the high price of economic inequality:
Forty percent of micro- and small businesses in the U.S. are owned by women, and 25 percent are owned by people of color. (Source: Prosperity Now, 2014 policy proposal, citing the Association for Enterprise Opportunity)

During the early part of the pandemic, those percentages dropped precipitously. From February to April 2020, businesses owned by Black, LatinX and Asian entrepreneurs dropped 41 percent, 32 percent and 26 percent, respectively. (Source: Federal Reserve Bank of New York)

Further, in "normal times," women and people of color receive smaller loan amounts, and are subject to higher interest rates and shorter payback times. (Source: U.S. Commerce Department MBDA)

The cost of such economic inequity in the last 20 years has amounted to $13 trillion, but if we could achieve equity in lending in the next five years, $5 trillion would be added to the economy. (Source: Citi GPS: Global Perspectives & Solutions, U.S. Sept. 2020)
"So, even if you're not concerned about the people or the businesses they run, but you do care about economics and driving growth in this country, closing gaps in financing is the way we can drive $5 trillion in growth," Dominski said.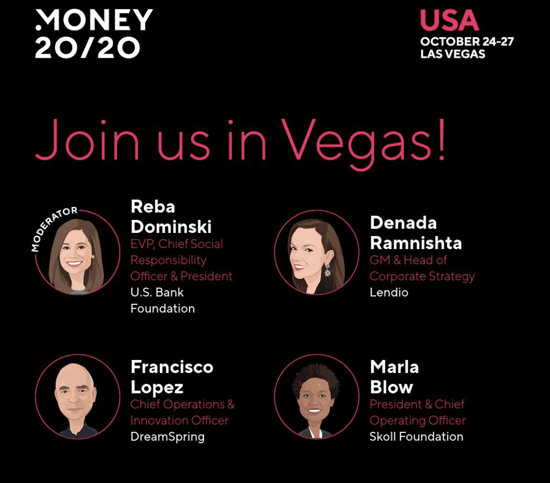 To follow is an excerpt of their dialogue.
What was the impact of COVID-19 on underserved entrepreneurs?
FL: Small business owners, especially those from underserved populations, experienced unprecedented need for rapid funding, and many could not get access to the Paycheck Protection Program (PPP) due to limited banking experience, the size of the loans they needed and lack of relationships with financial institutions. So especially in the early days, thousands went without financial support.
DR: Ironically, the PPP provided the perfect opportunity for an innovative pivot in our industry to achieve equitable results in lending. This was no longer a matter of small businesses needing capital to grow but needing capital to survive.
How did you uniquely respond to the problem?
FL: [DreamSpring] responded with a model we call MissionTech. It's really very simple. CDFIs like DreamSpring have a long history of relationships with underserved communities. That is the main foundation of the concept of CDFIs. We overlay that mission with partners seeking to access those markets and the technology to reach them fast. We had the technology in place that not only enabled us to pivot immediately to serve existing clients but also to access thousands more during the crisis. We then partnered with digital marketplaces like Lendio as well as with banks and philanthropies. This trinity of mission, plus tech, plus partnerships enabled us to scale 10 times our normal lending volume in a 16-month period and access underserved markets in a way that had never been tested before.
DR: There is no more prime example of a pivot that leverages technology to serve the underserved than our collaborative PPP response. The beauty of this story is that we overcame a monumental challenge quickly at a time of crisis. Through collaboration we helped a lot of underserved small businesses, and we did it from a point of parity. Now, we've carved a path to continue to do this in the future.
How does collaboration make good business sense, and why should the larger Money 20/20 audience engage with CDFIs?
RD: Traditional lenders can't always serve those who need capital the most. But we can refer those clients to CDFIs. CDFIs are not only better equipped and experienced at providing loans to the underserved – they can also help underserved and underbanked borrowers increase their credit worthiness. Those clients then may qualify for loans from more traditional lenders. It's a virtuous circle.
DR: When mission-based organizations and fintech come together, they can unlock new opportunities to develop further business. By supporting entrepreneurs that have been undermined by the system, we add participants to the economy. The bottom line is that doing the right thing is not simply a philanthropic measure; it's a fantastic business decision.
Looking into your crystal ball, what does the future of capital access look like?
DR: The power of collaboration between tech companies like Lendio and CDFIs like DreamSpring has shown us that equality in lending can be achieved. My hope is for Mission Tech as a notion to be eradicated because at that point we will have achieved what we're all trying to achieve. But between now and then, we have work to do, and I see huge collaboration between fintech, CDFIs, and larger financial institutions for the sake of underserved entrepreneurs and the Mission Tech solution.
FL: I see the future as any underserved entrepreneur who is dreaming about a startup and any small business owner that wants to grow their business getting access to capital to achieve that dream. It should be as easy as getting anything else that we get instantly today online.
---
How you can help: Join the MissionTech Movement! Support community lenders to enable greater financial inclusivity of underserved populations and catalyze lasting change for our economy, community, and lives.