Fast Company highlights DreamSpring's mission, technology, and growth
As a 2022 Most Innovative Company in the World awardee, DreamSpring partnered with Fast Company to share the transformational impact of access to capital, and how technology supports DreamSpring's rapid growth.
DreamSpring's financial inclusion mission is spurred on by a technology-enabled approach that creates pathways to capital for underserved entrepreneurs. A digital application process allows small business owners to quickly receive a decision and work closely with lending specialists throughout the process. Close communication and real-time support ensure entrepreneurs can readily obtain critical funds for small business success.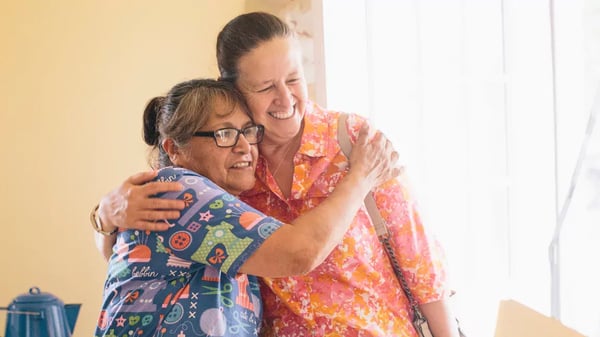 Shirley Pino (L) of RedWing Collections C and DreamSpring Founder and CEO Anne Haines (R)
Featured in the Fast Company article is Shirley Pino, owner of RedWing Collections in New Mexico's Santa Ana Pueblo and DreamSpring loan recipient.
Shirley learned how to use an electric sewing machine at a young age from her mother, a home economics teacher. Her mother's school was one of the few places in the Pueblo of Santa Ana that had electricity. Growing up, Shirley was often asked by others where she bought the clothes she made and wore. Years later, she came to realize she could create her own business centered on crafting clothes inspired by her late mother, who also had a sewing business. To honor her grandfather for giving her the name RedWing, Shirley named her sewing business RedWing Collections.
Shirley needed new sewing equipment and supplies to launch her business. A friend referred her to DreamSpring for a start-up loan. Since then, Shirley has received additional loans from DreamSpring to continue growing her business.
"From day one, DreamSpring believed in me," Shirley says. "Every single person that I have encountered from DreamSpring has this belief and faith in me. They're always encouraging me."
Shirley takes pride in the clothing she produces at RedWing Collections. She is inspired by the land around her and the culture she lives in. "All the colors in the land, the storm clouds coming in, all the native plants, and the culture in which I live. They inspire my clothes and my designs," says Shirley. And so does her mother.
"Our mother passed away in 2003. Years later, as I continued my sewing business, my sister told me our mom left me with the gift of sewing," Shirley says. "I carry and display our mother's picture everywhere. I call upon her spirit to assist me; she is still inspiring me to this day."
Learn more about Shirley's entrepreneurial journey and how DreamSpring makes small business dreams a reality in Fast Company.