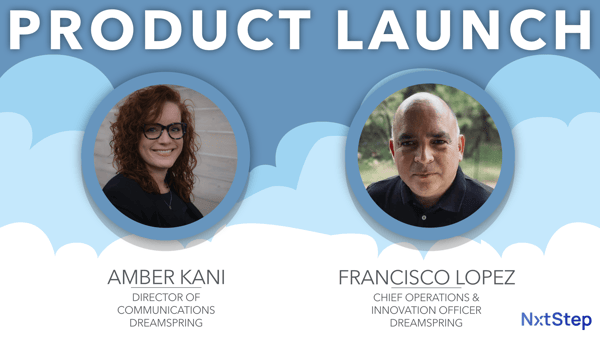 When DreamSpring launched an ambitious plan to scale our impact 10x, we knew it would take the right strategic partners, innovative technology, and a continued heart for our mission to realize our goals. It also required implementing the right go-to-market strategies, marketing verticals, and investments in organizational infrastructure.
Recently, our Chief Operations and Innovation Officer, Francisco Lopez, shared more about his experience and DreamSpring's journey to bring compassionate capitalism to scale on the NxtStep Product Launch Podcast. He was joined by DreamSpring's Director of Communications, Amber Kani, a community development finance veteran.
According to Francisco, scaling small business lending was a tremendous opportunity to connect entrepreneurs to critical funding. "The type of client, and small business, and entrepreneur that we serve is across the country. It's one of the biggest segments of the market that exists. It was clear to us that we had the opportunity to really scale our impact."
On the podcast, DreamSpring's team dug deeper into:
The products and services DreamSpring offers and how they help fund businesses.
The small businesses and entrepreneurs that DreamSpring tends to work with.
How DreamSpring was able to scale up and reach more clients.
The value of investing in your own technology and platforms.
How DreamSpring sources new clients.
What DreamSpring's future goals are and how they determined these.
The NxtStep Product Launch podcast is hosted by Sean Boyce, the founder of NxtStep, and features people who have overcome challenges related to growing a thriving product-driven business. Sean's interviews discuss how to identify problems worth solving and bringing businesses to scale, which closely aligns with DreamSpring's path and vision moving forward.
Learn more about DreamSpring's growth journey on the NxtStep podcast.