Too few resources exist to help veterans transition back to civilian life after military service, and many suffer for it. U.S. Air Force veteran Andrew Canales aims to change that.
Air Force veteran Andrew Canales had done everything by the book in his quest to recover from the post-traumatic stress disorder (PTSD) he suffered after military service that included two tours in Iraq.
He spent years navigating the Veterans Administration (VA) system, applying for benefits, searching for a healthy path forward. But real recovery evaded him as he struggled to find practical resources that could help him readjust to civilian life.
Canales is the first to admit this transition isn't easy. At times, he was plagued by depression, addiction, suicidal ideation, and more, in his attempts to assimilate.
As many veterans do, he eventually wound up without a home.
It was during one of his lowest points that Canales, by sheer force of will, strengthened his resolve to find help. Little did he know that help would come in the form of a dog named Rally – and Rally would inspire him to start his own organization for veterans, Houses for Warriors.
As we celebrate Veterans Day this year, DreamSpring is honoring the journey of heroes like Canales, shining a spotlight on their tenacity, and celebrating the organization that Canales launched in January 2019 to give vets the kind of support he had a hard time finding.
DreamSpring, which helped fund the Evergreen, Colorado-based Houses for Warriors in its earliest stages, was privileged to play even a small part in an organization doing such big things and is excited to learn more about what it's achieved so far…and where it's going next. Keep reading to hear from Andrew in his own words about his journey.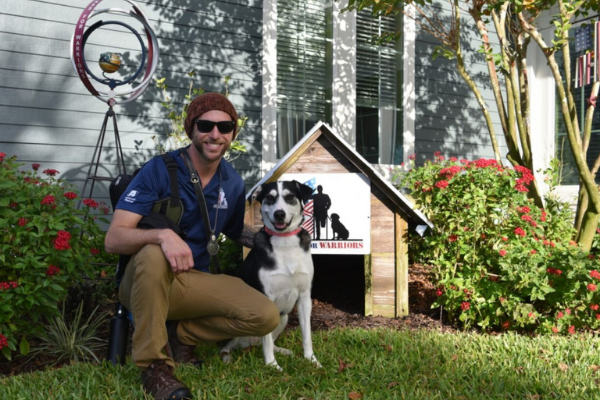 Andrew Canales and Rally
DS: You just started Houses for Warriors a little over a year-and-a-half ago now. What led you to start the organization?
AC: My own traumatic experience raised my awareness of the gap that exists in veteran services. It was also painful to watch the struggle of many of my friends. Nationally, 50 percent of our veterans aren't in the VA system, and we only have statistics for the half who are. This half shows us that isolation, drug and alcohol abuse and addiction, financial hardship, PTSD, and other traumatic brain injuries are the leading causes of homelessness. Veterans who experience homelessness are five times more likely to commit suicide. In Colorado alone, we have about 1,300 homeless veterans. It's so common, but too often just isn't addressed – many vets resist diagnosis, don't want to feel dependent on government services, or get lost and frustrated in the complexity of the system. I wanted to figure out how to be part of the solution. There's really nothing out there that provides all the necessary elements to a full and successful transition to civilian life. Houses for Warriors is dedicated to supporting homeless military veterans through their transition off the streets and into self-sufficiency. I've basically created an organization offering the things that would have helped me.
DS: What services do you provide?
AC: We work with the VA and organizations the VA is funding, and fill some major gaps. A lot of vets that come to us don't qualify for any benefits, or won't apply with the VA. We provide a wide variety of specialized services and resources to injured and homeless military veterans based on need. Our core program is a veteran-run, holistic transitional residence program called The Warrior House. It helps veterans who are homeless due to struggles with alcohol, drug abuse, or any other life-controlling problems. The Warrior House provides a cooking program where volunteers deliver home-cooked meals and includes a food bank where we store donated food. We also have workshops on goal setting and life skills, such as budgeting and managing finances. Many vets lack purpose in their life because they can't find work or lack employable skills, so we connect them to a Construction Skills Bootcamp offered by our partners at the Colorado Home Building Academy that helps them break into the construction industry. We also partner with the Warrior NOW mentorship program, connecting veterans to a network of fellow veterans who can provide support, advice, or simply a listening ear so no veteran feels alone or unheard. They also need somebody who can help push them and hold them accountable. With the help of incredible partners and volunteers, we have also been actively engaged in assisting injured warriors with essential home repairs and renovations to meet their disability needs. We have an amazing resource page with lots of helpful information that many veterans don't know about, so we're trying to get the word out.
DS: Your organization was inspired in part by Rally, a canine companion you still have. What was it Rally did for you that you needed so badly?
AC: Rally came to me through Canines for Warriors, a Florida nonprofit that trains and matches therapy dogs with eligible veterans. He's a husky-shepherd mix that gave me unconditional love and support, as well as a purpose in life. This sense of purpose inspired me to want to help other veterans, and empowered me to feel like I could actually do that. At the same time, Canines for Warriors showed me what a high standard of organizational support looks like. So, between their example and Rally by my side helping me network, lead meetings, wear suits, and all the things I was uncomfortable doing even two years ago, the development of my organization has really aligned with my own personal growth.
DS: What have you accomplished so far, and where are you going next?
AC: We have five homeless veterans living in our transitional house right now, with room for four more, and we completed about $115,000 in renovation projects for five veterans last year. As of this year, we're on track to do over $250,000 in projects. Our success since we were founded just a little over a year ago is not bad for what amounts to a one-man show, some volunteers, and a dog.
My goal is to have at least 10 homes running, with 10 veterans in each, so we're helping at least 100 veterans at a time. Ultimately, I'd like to build a campus that includes housing and a healing center, so we can offer vets a holistic approach to making the transition to civilian life. While we currently only serve veterans in Colorado, my vision is for Houses for Warriors to know no boundaries. All veterans deserve the kind of support we can provide. To do that, we need major national donor support and the capital to build a team that can really develop this strategically into a nationwide program.
DS: Is there a particular success story you're proud of?
AC: In January 2021, on a day when a major winter storm was coming through, I met this vet who had been living on the street for over two years. During that time, he had not received any of his disability checks from the VA. His relationship with his wife and family were destroyed. He had absolutely nothing. He spent most of his days just trying to get enough money for a hotel room for him and his service dog. We got him a permanent bed in a local shelter. Within two weeks he got a job, and in three months had his own place, received his back pay for disability, which was over $62,000, and bought a car. By March, he was approved for his housing voucher, and we helped him move into his apartment and furnish it. Now, he's not only started his own construction business but is booked out for a year, and he's back together with his wife and kids.
DS: What role did DreamSpring play in helping you advance Houses for Warriors?
AC: DreamSpring gave me a seed loan of $10,000, which helped us launch the organization. I had poor credit, and DreamSpring was the only lender that would support me and understood and empathized with what I was trying to do. I used the funding to get established – it allowed me to create a robust website that tells our story well, outlines what services we offer, and helps veterans navigate resources. If we hadn't had such a strong online presence when the pandemic hit, we wouldn't be here. But because of the website, we were able to continue to grow our monthly donor base and expand our work. I get emails and calls all the time from veterans that say, "Hey, I found your website. Thank you so much for putting that out there."