About the DreamSpring Dallas Board Meeting
DreamSpring convened for its first in-person board meeting since the pandemic in Dallas, Texas, on Friday, May 20. Infused with connection, celebration and purpose, the board meeting was part of a three-day event that brought together stakeholders from across the DreamMaker community, including DreamSpring board members and staff, business owners, and representatives from Dallas' banking and economic development sectors.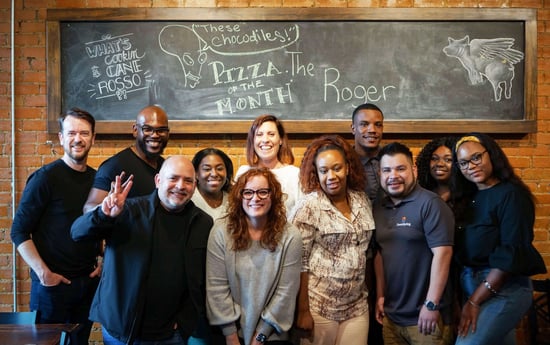 From left to right: Evan Maxon (Director of Operations & Technology), Ikechi Ukazu (Community Lending Officer), Francisco Lopez (Chief Operations & Innovation Officer), Marquita Adesida (Senior CRE Program Officer), Amber Kani (Director of Communications), Metta Smith (Chief Lending & Client Experience Officer), Shaundra Jacobs (Community Lending Officer), Jeremy Noil (Community Lending Officer), Jonathan Sarabia (Senior Loan Officer), Toni Johnson (Senior Small Business Program Officer), and Khadisha Dildy (Community Lending Officer)
Kicking things off, the DreamSpring Texas team held a two-day training in conjunction with the Dallas event. With members from Lending, Communications, Operations, and Technology, the team co-worked together with special presentations on the marketing roadmap, technology updates, and the underwriting process. The Lending team provided feedback on market needs, ideas on streamlining our processes, and recommendations for how to better cross-functionally collaborate. The Texas team mixed work and fun on Wednesday with dinner at the legendary Cane Rosso pizzeria and bowling at Punch Bowl Social. The gathering was special in that it was the first time the entire Texas wing of DreamSpring — spanning offices in Austin, Dallas, Houston, and San Antonio — met together in-person. We tip our Stetsons to this awesome group of DreamMakers!
DreamSpring Visits Small Businesses in Dallas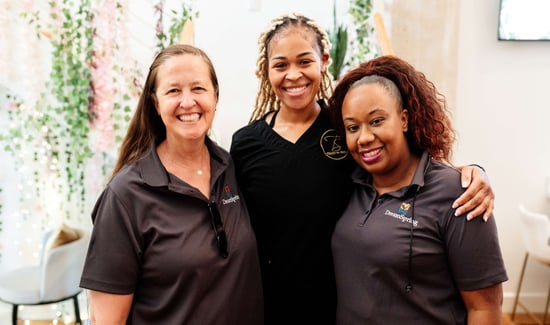 From left to right: Anne Haines (President/CEO), Taylor Symone (Owner, Touch-N-Skin), and Shaundra Jacobs (Community Lending Officer)
On Thursday, board members and staff were treated to tours of two businesses that have received funding from DreamSpring. The first stop was Touch-N-Skin day spa, helmed by entrepreneur Taylor Symone. Taylor invited us into Touch-N-Skin's serene 2,800-square foot loft space, aglow with candles and colorful flower garlands, and shared her story about launching a business shortly before the pandemic.
By listening to her customers and innovating her business model, Taylor was not only able to survive the pandemic, but thrive. "I just wanted to grow and do more," she told us. With a young family at home and a DreamSpring loan in hand, Taylor tripled her monthly revenue from $10,000 to $30,000. Today, Taylor employees nine people whose job is to "spoil" Touch-N-Skin clients.
"I take pride in what I do and in my employees," she said. "I have fun being an entrepreneur. It gives me the freedom to be a mom."
Our second stop was the Royale Ballet Dance Academy. With classical music welling up from four studio classrooms, owner/instructor Angela Sham described her family's work to keep the school's doors open and children active through the pandemic. (A crowning achievement: reimagining the Nutcracker for the COVID age with a mix of pre-recorded and live performances, so that every child could dance.) "This is my baby," she said as she ushered us into a large, light-filled studio with sprung floors made to accommodate ballet shoes. Angela pointed to an upright piano in the corner that belongs to her son. DreamSpring was able to creatively count the piano, along with props and costumes her family designed, as collateral for the loan that helped Angela finance her business.
Dallas Community Luncheon Hosted by DreamSpring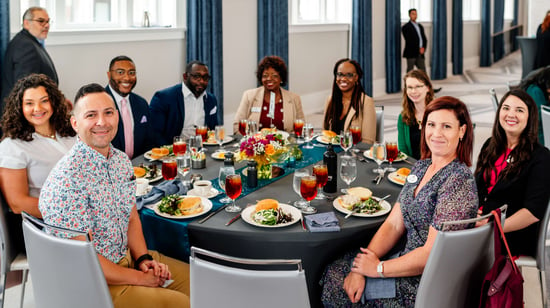 From left to right: Abel Peña (Telesto Coffee), Lora Peña (Telesto Coffee), Brandon Jones (Comerica), Mar Howard (Comerica), Jerrie Merritt (DreamSpring Board Member), Niki Forward-Conner (Comerica), Rachel Dupen (US-India Chamber of Commerce), Marcie Chavez (DreamSpring People & Culture Director), and Metta Smith (DreamSpring Chief Lending & Client Experience Officer)
After the DreamSpring board convening on Friday, the Dallas event culminated in a marquee community luncheon. The airy Pittman Hotel ballroom was abuzz with 73 guests networking in the name of entrepreneurship and financial inclusion. Attendees heard heart-felt testimonials from DreamSpring clients (Barbara Oldums of Industrial Solutions Company, and Abel and Lora Peña of Telesto Coffee); board members (Board Chair Edmond Johnson and Irvin Ashford, Jr.); and DreamSpring President/CEO Anne Haines. After nearly three years apart, the luncheon was a joyful reunion that galvanized our shared purpose.
View the Dallas community luncheon photos here!