Are you a small business owner or an entrepreneur looking to promote your products or services without breaking the bank? You're not alone! In this competitive market, your small business is competing with big-dollar campaigns from large corporations. Fortunately, there are several cost-effective strategies that can help you jump start your small business marketing.
Leverage the Power of Social Media
You shouldn't be surprised to see social media listed here. In the digital landscape, social media platforms can create opportunities for you to engage with potential customers and build your business brand. Fear not — you don't need to be overly active on every social media platform.
Think about who your customers are and ask yourself the following questions:
What is the age range of my current customers? Is there another age range I want to reach?



Where do my customers get their information when shopping?




Does my business work primarily with women? Men? Non-binary individuals? A combination?
Broadly speaking, Facebook and Instagram continue to dominate the world of social media with some of the highest numbers of active users across all demographics. According to the American Marketing Association, Facebook is used by a range of age groups, particularly 18 to 44 years old. Instagram is popular among people aged between 18 and 34 — so if you're looking to target the Gen Z demographic, it can be a great option. We would be remiss not to mention TikTok, now the world's third-largest social media network. The video platform is incredibly popular with Gen Z and Gen Alpha users and has a growing demographic of Millennials.
Regardless of what platform you choose to focus on, your priority on these sites is to create engaging and relevant content that resonates with your target audience. Share success stories, behind-the-scenes glimpses, and informative posts about your business.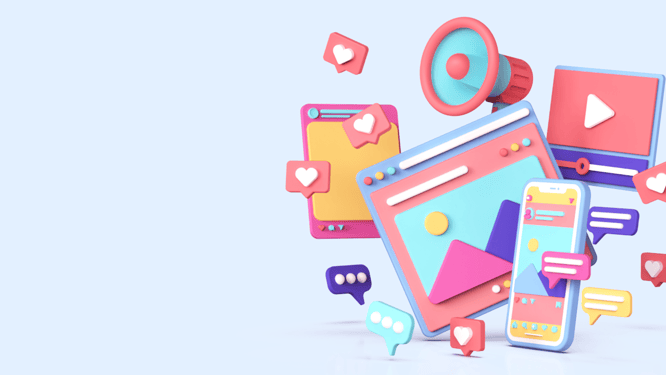 | | | |
| --- | --- | --- |
| | Social media marketing is a marathon, not a sprint, so create a posting schedule that works best for you. The key here is to build authentic connections with your digital audiences. Try to post once a week! | |
Develop High-Quality Content
Invest time in crafting valuable content that showcases your expertise and addresses your customers' pain points. Start a blog on your website and share insightful articles, guides, or how-to videos related to your industry. This establishes you as an authority while boosting your website's search engine ranking, making it easier for potential customers to find you.
In addition to your own content, utilize the power of user-generated content. Encourage your customers to share their experiences with your products or services on social media. Repost their content on your official channels with their permission. This not only provides you with authentic content but also showcases your satisfied customer base.
Collaborate with Local Partners
Partner with local businesses, organizations, or community leaders for cross-promotion. This fosters a sense of community and enables you to tap into each other's customer base. Their endorsement can introduce your business to a wider audience.
Participate in or host workshops, webinars, or networking events. These platforms provide you with an opportunity to showcase your expertise, connect with potential customers, and build a strong network within your industry. It's an effective way to establish trust and credibility.
Focus on a Consistent Digital Presence
Outside of social media, there are a number of strategies you can deploy to streamline your presence online and engage with your audiences. Optimize your website for local search by including location-based keywords in your content, meta descriptions, and titles. Claim your Google Business Profile listing and encourage satisfied customers to leave reviews. This can improve your visibility while also building trust among local consumers.
Conduct a quarterly audit of all your digital assets, including website, Yelp, and social media. Have any services or pricing changed? Are there new photos or descriptions you can share? Setting aside two to three hours per quarter for these minor updates will continue to build your SEO (search engine optimization) and create reasons for audience members to revisit your site throughout the year.
| | | |
| --- | --- | --- |
| | Marketing your small business doesn't have to drain your resources. By strategically implementing these cost-effective strategies, you can efficiently promote your business, enhance your SEO, and foster trust within your community. | |
| | | |
If you need extra support, subscribe below to SpringBoard, DreamSpring's business resources newsletter, or reach out to your local Small Business Development Center (SBDC) for additional guidance.
Have a topic you want us to cover? Email us at marketing@dreamspring.org.
Looking for more business resources and advice?
Sign up for our newsletter and have them delivered to your inbox!
Subscribe now!