Opening Doors to Opportunity
Small business owners Shannon and Jerry White remember their humble beginnings. The couple started Santa Fe Doors in a garage, and now the company operates with 12,000 square feet of manufacturing space and more than 30 employees. The company has grown beyond the original concept of supplying local homebuilders with custom southwest-style doors to be a national leader in the construction of entry and interior doors, gates, barn doors, and both custom and commercial projects.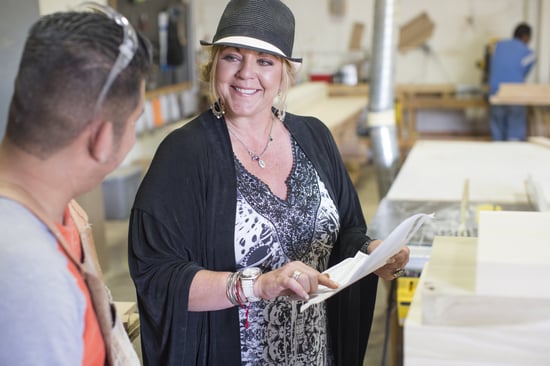 Shannon White

(R) of Santa Fe Doors with a client.
Shannon and Jerry have worked on high profile projects across the country, including a home for an ABC News broadcaster, a Malibu home for an Australian musician, and a custom home in western Colorado for the CEO of the Discovery Network of Channels.
Project-based contractors like Shannon and Jerry need access to capital for equipment, hiring, inventory, and transportation costs associated with each project. DreamSpring is partnering with the U.S. Economic Development Administration to offer a new loan product specifically for contractors in New Mexico and Texas.
The Fast Forward loan provides short-term financing for 1-3 months at 0% interest, empowering contractors to move projects ahead despite rising costs. At DreamSpring, we believe that accessing capital is key to growing a small business, and we are here to make sure that contractors can complete projects on time and on budget.
Fast Forward Details
The special Fast Forward loan program is specifically for contractors, service providers, project-based businesses, and construction industry businesses in Texas and New Mexico. Funds can be utilized for working capital to complete projects or get new initiatives off the ground.


Borrowers will be asked to submit a project cost breakdown, executed contract, and profit projection. This 0% loan program offers up to $10,000 to eligible borrowers, and program participants must have a minimum credit score of 650. If you have a project in need of a boost, Fast Forward could be the answer.


Fast Forward funds offer project-based support and can be used to purchase new tools and equipment, re-strock consumables and building materials, hire subcontractors and skilled laborers, and inventory additions. Investments in marketing collateral and website services, purchase of a company vehicle, and technology purchases are also eligible under the program.
Fast Forward for You
DreamSpring offers an easy, online process so you can complete the application whenever and wherever it is convenient for you. Our dedicated teams in Texas and New Mexico are ready to provide help and guidance along the way. If you would prefer to work directly with a loan officer, we can take you step by step through the process.
Current DreamSpring clients can apply for Fast Forward funding using information already on file for an expedited process. Just contact our team to get started!
The DreamSpring Family
Fast Forward is one of several loan products DreamSpring offers to small business owners. Whether you are just starting out or are ready to scale, DreamSpring offers flexible small business loans and lines of credit to help you grow. Visit our loan products page to learn more about the DreamSpring family of products or contact our team to learn more.
When you borrow funds from DreamSpring, you'll join a community of entrepreneurial advocates. Our team is a resource for ongoing guidance and support, whether you need additional capital down the line or access to a resource provider. We believe that small businesses are catalysts for community change, and we look forward to working with you!