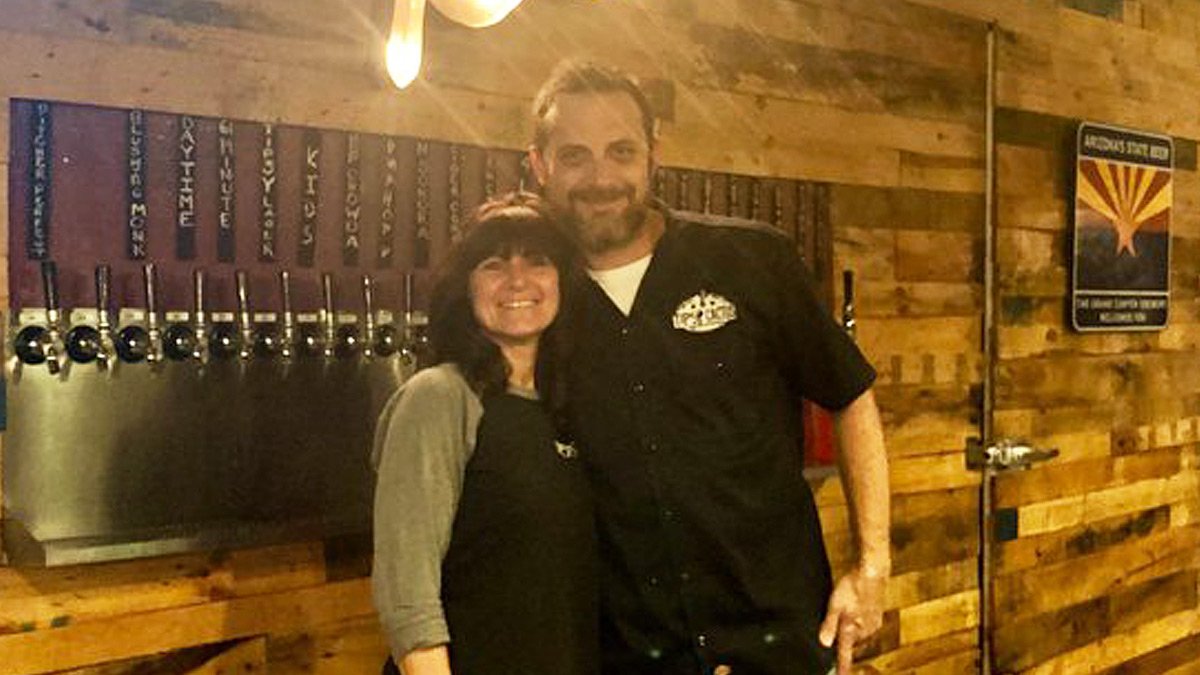 Jo Ann Franko and Sean Hayes
Owners of Tucked Away Craft Kitchen & Bar and Tipsy Cactus TapRoom & Bottle Shop in Mesa, Arizona
Jo Ann Franko never had thought of trying anything unusual or risky for a career. She was happy being a pharmacist, making more than a solid income. Her husband, Sean Hayes, however, had an ambitious dream.
Sean had been in the restaurant business since he was a child growing up in Las Cruces, New Mexico. "So, he always wanted to open his own place," Jo says of Sean, who eventually left New Mexico to attend culinary school in Scottsdale, Arizona. "I'd watch my husband go from job to job," she says, where he would turn other people's restaurant businesses around "and not get anything out of it. So, we decided we'd save money and try to open our own place. I never really had a dream, so I thought I'd help my husband reach his."
When the couple got close to their savings goal in 2016, DreamSpring filled in the rest with a $35,000 loan to help open Tipsy Cactus TapRoom & Bottle Shop in Mesa, Arizona. The bar serves craft beer from all over the country.
"There was nothing in this area of Mesa — no taprooms of any kind. But the beer-drinking community is huge," Jo says. "We were the nobodies on the block when we opened. Distributors said we would fail because we didn't have a kitchen and because of the location in a strip mall."
On November 1, 2019, Jo and Sean threw a three-year business anniversary party. It attracted more than 500 customers — so many that Jo sold out of the T-shirts she had printed for the occasion. "The anniversary was the most financially profitable night we've ever had," Jo says. "The outpouring of support from that community was humbling. It was indescribable. My husband built a sense of community that wasn't there before. Friendships were born in that building. People who had never met before are friends. They do things with each other; they go to each other's homes."
"It would not have been possible for us to open without the help of DreamSpring," Jo says, adding that they had initially approached a national bank but were turned down. "DreamSpring took a chance on people who had never owned a business." And DreamSpring helped again in 2019, when Jo and Sean decided to open a restaurant.
"We weren't as prepared financially; this venue was a lot bigger than Tipsy because this was a full restaurant," Jo says. "I had to learn everything from how to build a kitchen, to plumbing — you name it, I had to figure out how to do this from the ground up."
This time, DreamSpring provided $50,000 to help them build out the kitchen of Tucked Away Craft Kitchen & Bar, a few miles from Tipsy and within walking distance of their home.