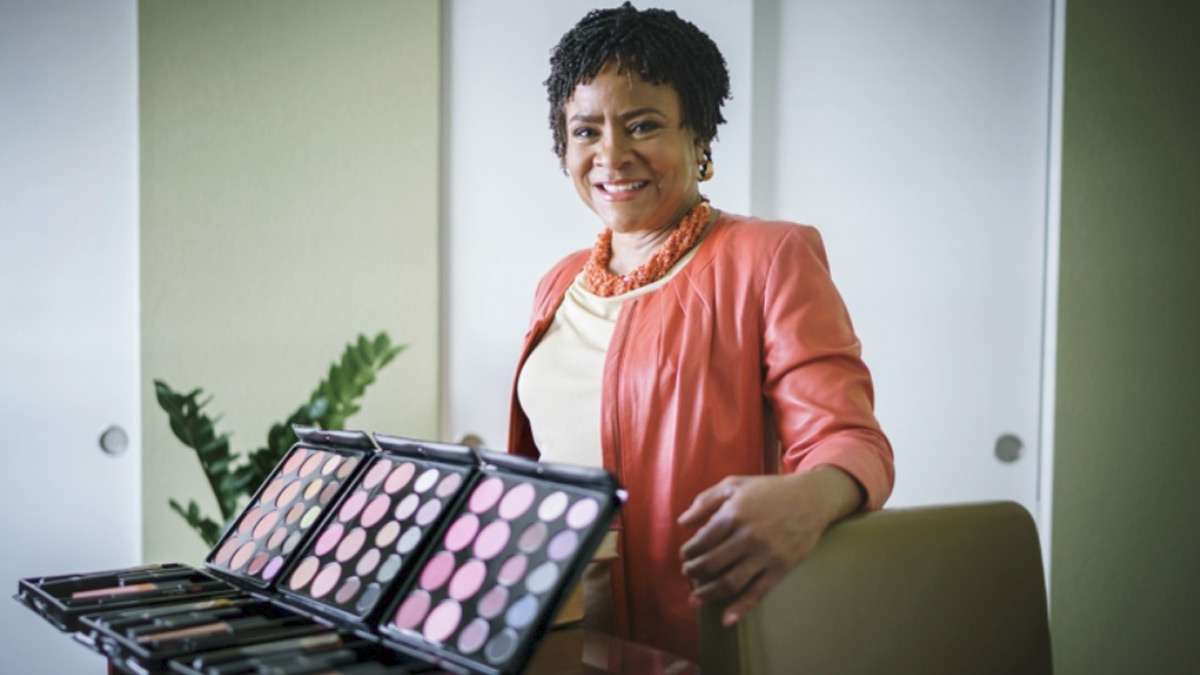 Rhoda Johnson
Owner of Rhoda Design Group in Aurora, Colorado
As one of six children raised by a single mother, Rhoda Johnson was a creative kid with big dreams. She struck inspiration gold when her family relocated to Colorado during her teenage years.

"I saw educated, elegantly dressed women involved in giving back to the community,"

she says. "That's when it sparked the desire — this is what I wanted to do," she says, describing her passion to help women feel confident and beautiful in their own skin.
Rhoda went on to pursue a degree in fashion, study under Hollywood's premier makeup artists, and earn her image consulting license. But as she climbed the beauty-industry ladder, Rhoda realized that cosmetics simply weren't made for the women who had inspired her.
"There was either a Black cosmetic line or white cosmetic line, and I didn't fit into either and had to mix from both," Rhoda shares.

"Women also had to be all or nothing; there wasn't makeup for businesswomen, only glamour. If they didn't want to be laughed out of the corporate office, they just didn't wear anything at all."
Still carrying her childhood dreams, Rhoda set out to build an inclusive cosmetic line. She freelanced at high-end department stores like Neiman Marcus and Saks Fifth Avenue, which allowed her to learn from global makeup artists while attuning to the needs of professional women.
After the launch of her cosmetic line, she was encouraged to use her image consulting skills to help women complete their entire look. Rhoda took her business even further by crafting jewelry and accessories. From head to toe, Rhoda uses style to elevate the executive presence of her clients, whom she describes as compassionate leaders.
Rhoda's business had to quickly pivot to survive the pandemic, however. Her original business model had focused on workshops, in-person consultations, and events. Now Rhoda needed access to funding to stay afloat, in addition to guidance on integrating virtual sales into her business plan.
"The DreamSpring loan allowed me to adjust during COVID and serve my clients online," Rhoda says. "I was able to receive a paycheck and hire marketing support to create new strategies."
With new marketing tactics and funds to continue, Rhoda scheduled virtual consultations and grew her online storefront. Her resilient business is now working with women across the country, growing their self-esteem so they can be community advocates, business executives, and inspirational leaders.
"Transformation is hard, scary, and challenging, but I hold a compassionate space for them. My work helps women get out of their own way and step fulling into their potential. Then they can serve community," says Rhoda, who never lost sight of her entrepreneurial dream of the role models who inspired it.