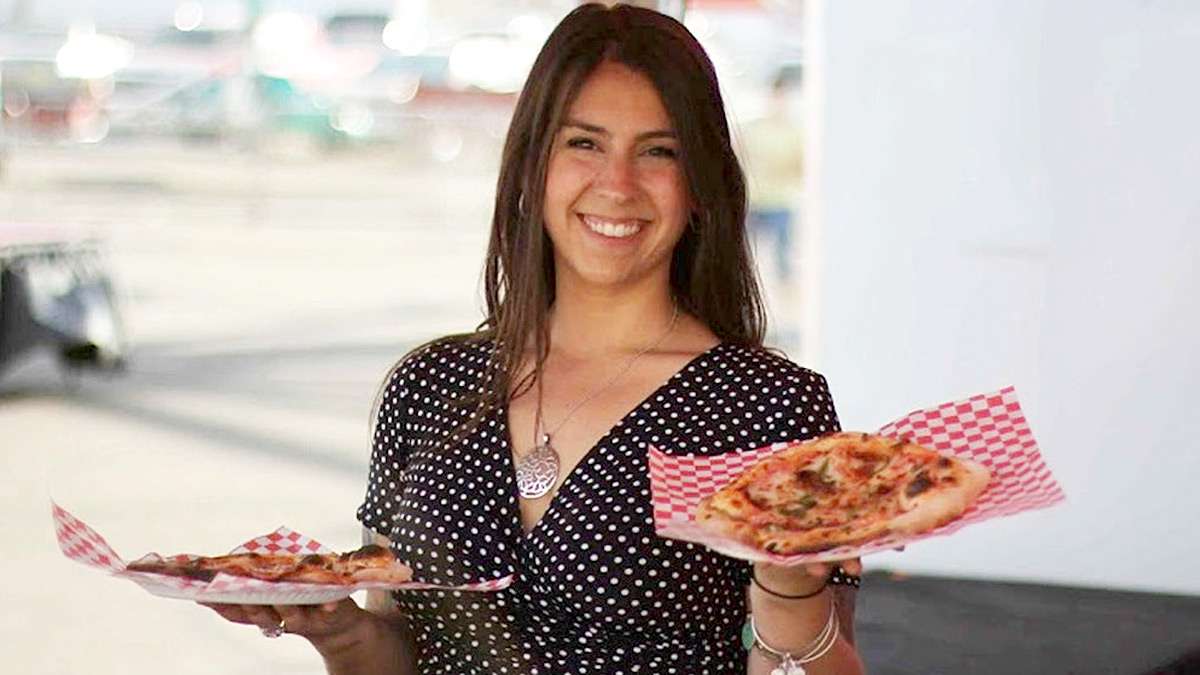 Madisen Saglibene
Owner of Pizza Stoned in Las Vegas, Nevada
Madisen Saglibene was fed up with Upstate New York winters. Between the brutal cold and heavy snowfall, she was ready for a new adventure. What Madisen could not leave behind, though, was the Naples-based Italian food gene coursing through her veins. Those family recipes had not only nurtured her but also fed countless foodies at her parents' restaurant.
So, when Madisen arrived in Las Vegas, Nevada, and noticed the food truck market hadn't caught on, she saw an opportunity to introduce a taste of home. She would give the Entertainment Capital of the World New York-style pizza, on the go.
"I take extreme pride in my family recipes and serving people. We show each other love and affection through food, so that is where my passion comes into it,"

says Madisen, who worked bartending and serving jobs while studying criminal justice and getting a bachelor's degree in sociology at the University of Buffalo.
But when it came to starting her business, Pizza Stoned, "I put the cart before the horse," says the 27-year-old.

"I ordered the oven before I knew it couldn't be installed in an existing food truck."
Madisen had her heart set on a Mugnaini, a brick Italian import weighing 4,000 pounds and costing $13,000. Because of its heft, she'd need a custom-built truck to hold it. "I drove to Phoenix, L.A., San Francisco, Fresno to meet with different truck builders because I kept finding how important the build was," she says.
After 1,600 miles, she chose a guy in Fresno because he supported her business idea and "knew brick ovens." The truck took six months and $50,000 to build, delaying her opening until April 2019.
Even then, she says, the launch would not have happened without a $55,000 loan from DreamSpring, which she received by collateralizing the oven. "I was going to a lot of SBA meetings and community events that were focused on start-up businesses and entrepreneurs. I went to a lot of things aimed at women starting up businesses, and I kept bumping into [a representative] speaking on behalf of DreamSpring," she says. "I have a couple of friends that went through other lenders with different financing. I just realize how fortunate I was."
While starting the business, Madisen is working full time four days a week at a casino. That leaves nights and weekends for Pizza Stoned. Early sales have primarily occurred in front of cannabis dispensaries, which seek out food trucks to park in front their stores. (The Pizza Stoned name plays on that association as well as the stone, or hearth, used to cook the pies.) In the summer of 2019, she catered her first large-scale event, the World Series of Poker, serving 90 people during a 20-minute break in the tournament.
"There's still a lot I'm learning,"
she says, explaining an intentionally slow start.
"I know how to make a pizza, but when you're talking about hundreds of people out your window waiting on pizza, it can be scary."
Plus, the art of pizza requires more than turning a knob to 450 degrees. Just preparing the sourdough-like dough takes 36 hours due to the fermentation required.
"It's an intimate process. You don't just come into a restaurant and flick on a light and go. My hands are literally touching everything,"
from gathering kindling for the wood-fired oven to slicing mushrooms, she says.
Madisen makes everything from scratch and buys only fresh vegetables. She is ultra-conscious about minimizing her carbon footprint, using biodegradable products and even selling canned water instead of bottled. She has done some lobbying on behalf of criminal reform issues pertaining to marijuana policy and intends to push for change in Nevada's strict food truck regulations to make them more friendly for entrepreneurs.
"It's cool to see and experience first-hand how when you take what you're passionate about and mix that with some goals and determination, it's fulfilling. I hope to someday be able to help other small-businesses or women in our community. No way would this have happened without DreamSpring. I have a lot of gratitude," she says.