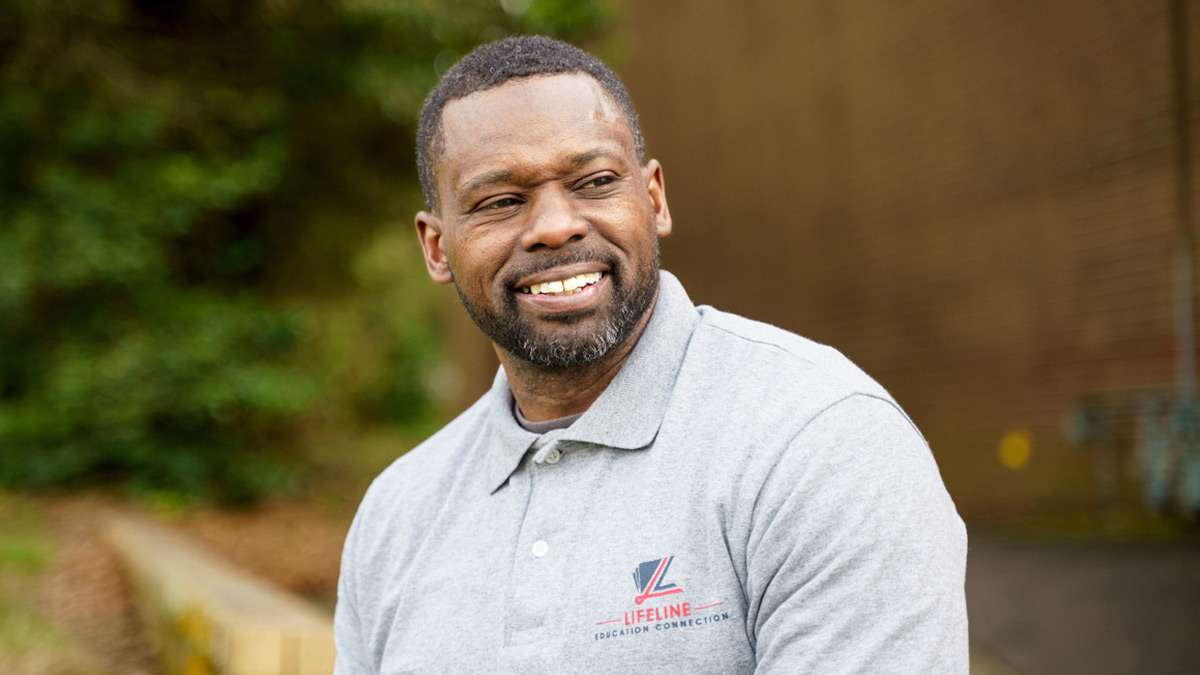 Tavares James
Founder of Lifeline Education Connection in Charlotte, North Carolina
Tavares James is not afraid of adversity. Growing up, his mother fled domestic violence by moving with Tavares from a large, comfortable home in Virginia Beach to a house shared with eight other people in Raleigh, North Carolina. Tavares found himself getting in trouble as a young man — with the law, with drugs and alcohol, with his relationships. He knew he had to make drastic changes or he'd be doomed to a life that he wanted no part of. He started by looking at his arms.
"See my arms? The arms are meant to do two things: to give and to receive. And I had to learn how to give back,"
he says.
"I started to see people struggle with repossessions or down credit. When I started this journey, I had a 513 credit score — I know what it's like. But I always tell people that no man and no woman is an island. I found that there's value that I can give to other people, and it will help me."
As the owner and founder of Lifeline Education Connection in Charlotte, North Carolina, Tavares has built his business around providing financial and entrepreneurial training to people who've faced more than their fair share of obstacles. His clientele includes single moms (for whom he has a soft spot, thanks to his mother), veterans, people experiencing homelessness, formerly incarcerated returning citizens, and those who are transitioning out of drug and alcohol recovery centers. Through one-on-one coaching and group classes, delivered with an infectiously engaging rapport, he helps his clients build bridges out of adversity and into self-actualization and prosperity.
"We help these people to find a true vision — by way of financial literacy, sales, marketing, professional development, personal credit score development, business credit scores, funding, and developmental strategies — to create systems that will allow them to be a better part of society," he says. He's seen that when life beats people down, they can begin to believe their purpose is "distant and dark." Lifeline Education Connection is a catalytic spark that gives people the tools and confidence to step into their own light.
After putting thousands of miles on his car to provide services at facilities throughout the Southeast United States, Tavares realized that Lifeline Education Connection needed its own classroom space.

So he applied for a DreamSpring loan. "DreamSpring was one of the only people at the time that believed in this. They believed in what we were doing," he says. "I know that their personal commitment is to helping people. I got new friends now. And I tell everybody the same thing: DreamSpring gave me a shot."
Tavares is planning on going back for a second loan so that he can turn his classroom material into online courses accessible to anyone, anywhere. "

It's great to help 15 or 20 people in a classroom setting. I'm persistent, I'm consistent, I'm patient. But we got to get more people, we got to reach more lives,"

he says.

"It's the law of averages. If we touch 1,000 people and only 10 people subscribe to what we're doing, then I think we're doing it effectively. If it's only one person, I think we're effective."