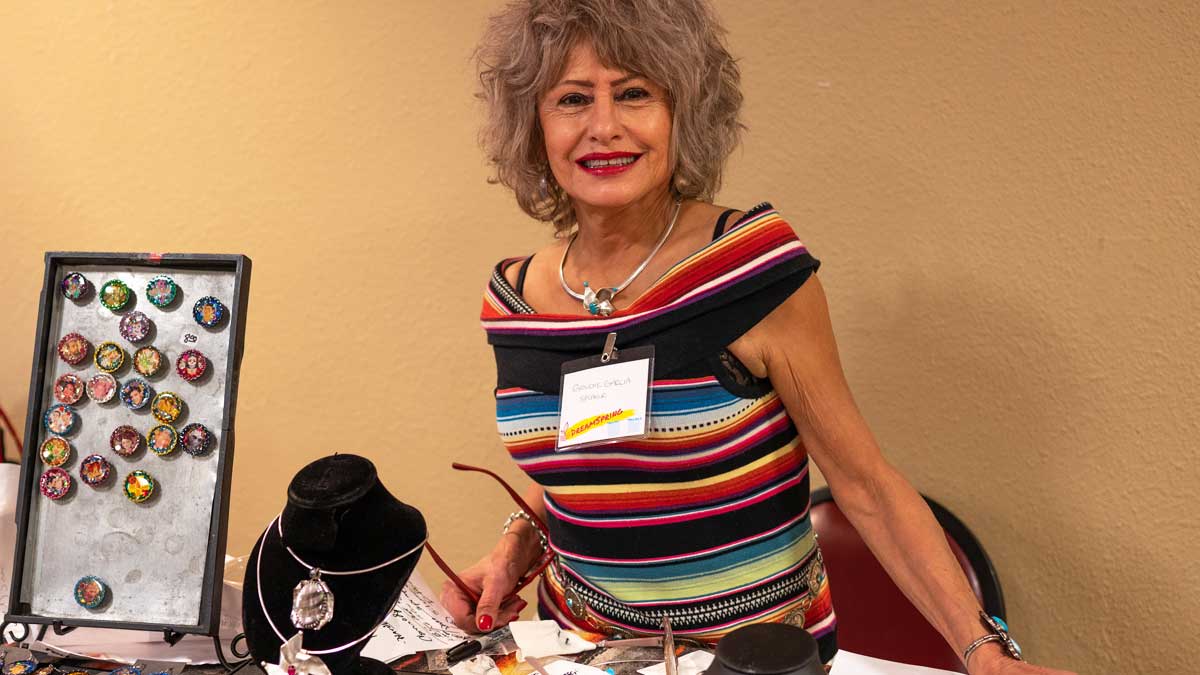 Goldie Garcia
Comic and artist in Albuquerque, New Mexico
As long as she can remember, Goldie Garcia has been the star of her very own circus, complete with dizzying juggling acts, high-flying bravery, and even a clown car or two. An elder sibling in her family of 11, she helped raise eight brothers and sisters — a never-ending task that helped sharpen her wits as she tried to keep them safe and happy.
Goldie's quick mind and adventurous spirit had her dreaming of life beyond New Mexico. As a young adult, she was accepted at Harvard for business studies. She moved from Albuquerque's South Broadway neighborhood to Cambridge, Massachusetts, and committed herself to her studies. Adjusting to academic life on the East Coast, however, was challenging.



"I cried a lot the first three years when I walked alone in Cambridge. But I always said, 'I'm not going to give up. Don't be a victim in life,'"

she says.

"Any obstacle — and I've had many — you'll always find a way around it."
Goldie's way around her loneliness was humor. She discovered that stand-up comedy provided much-needed community and therapy for the stresses of being away from home at an Ivy League university. After class, Goldie would brave Nor'easter storms and take the subway to rough neighborhoods just so she could perform.
"That's passion, and comedy was my love,"
she says.
Goldie stayed in Boston for a decade, performing at open mics in multiple clubs every week. She also began experimenting with a new medium she called "bottle cap art" — filling bottle caps with tiny pictures, colorful embellishments, and clear epoxy, creating miniature works of art that can be used as magnets, jewelry, and more. She gravitated toward concepts that explored and celebrated her Mexican-American/New Mexican heritage.
Goldie soon realized her new art form was a hit back in New Mexico, and she could make an income by selling her work at galleries and other art shows there. That's how she first started working with DreamSpring.
"My credit was bad. I was going through a divorce. I felt like a plane about to hit ground, and then DreamSpring saved me,"

she says.



Goldie has taken out numerous small-dollar loans with DreamSpring over the years.

When she has an art fair or exhibition to prepare for, Goldie gets enough capital to purchase the supplies to make her famous bottle cap art. When she sells the art, she repays the loan.

"I know I will continuously be a client of DreamSpring," she says.

"You have the warmth and the love of a family."



Goldie stayed in the spotlight, working as a comic known as "New Mexico's First Lady of Comedy." And celebrities like Al Pacino, Julia Roberts, and Hillary Clinton are proud owners of Goldie Garcia originals. Despite creating a new art form, Goldie isn't rich from her invention — she never patented the process. Yet she hears story after story of resilient women entrepreneurs across the globe who support their families by making bottle cap art, and that's made her rich in other ways.



"Harvard taught me to get out and change the world. I didn't know I was going to do it. I just followed all the signs God gave me, and I think it they were pretty good signs,"

she says.

"I changed the world; I can die happy."