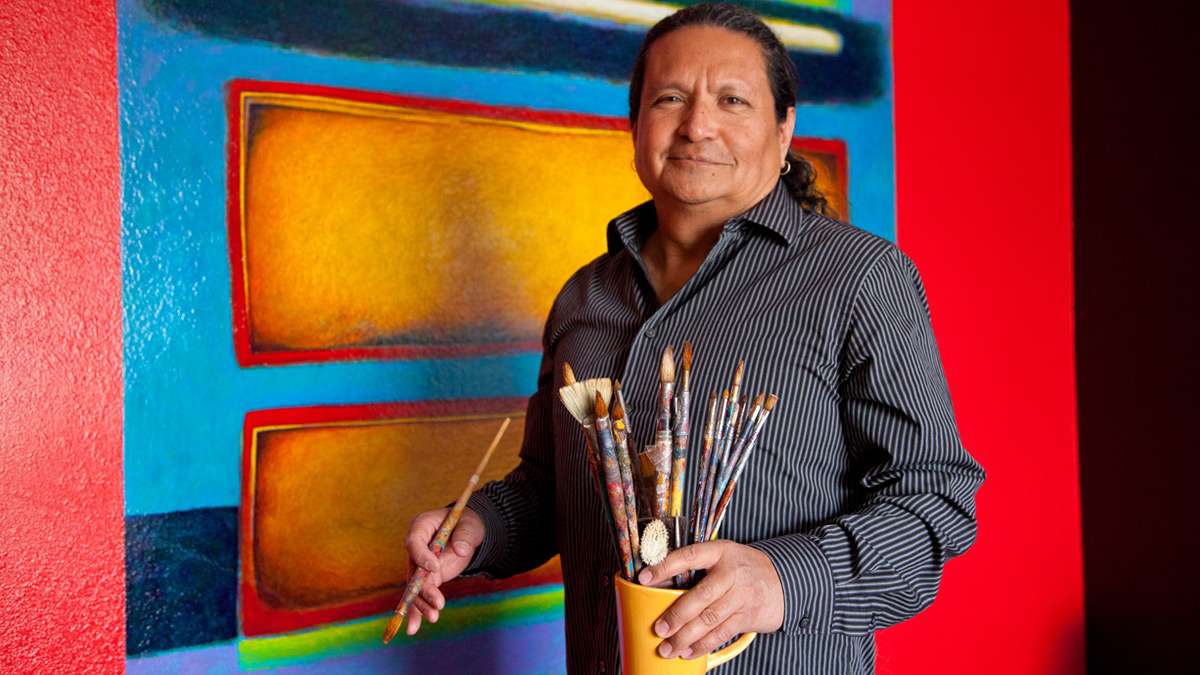 Rhett Lynch
Owner of Gallery Hózhó in Albuquerque, New Mexico
Navajo artist Rhett Lynch knows precisely when inspiration struck him to become a painter. He was 5, holding a blanket over himself and a TV in his parents' basement in Texas, secretly watching midnight broadcasts of his favorite event — Mexico City bullfights. The station broke from the program to air a brief segment about Pablo Picasso, painting bulls and bullfights in his studio. "And in that moment, I remember so vividly thinking to myself, 'I'm going to be that guy,' Rhett says. "I didn't even know who he was."
Now 60, Rhett has been nationally recognized as a professional artist for more than four decades. After drawing obsessively as a child, he began making paintings for sale under a mentor at age 15. By age 20, he was well on his way to establishing himself as an artist worthy of commissions. His subject matter, and even his medium, varies — from paintings in oil and acrylic to hand-woven tapestries, sculpture, drawings, and film production.
"The common denominator for my work has been my use of color, with painting as the bedrock of what I do." Working from his home studio in Alameda, N.M., he says, "I never considered opening an art gallery."
But that's what happened in 2016, when a new luxury hotel opened in Albuquerque's Sawmill District. Rhett had been offered a chance to locate his studio in the hotel's retail space, but when he found himself too busy with commission work to make the move, he pivoted to using the location as a pop-up gallery for other indigenous artists. It wasn't long before Rhett established it as a permanent gallery with help from DreamSpring that same year.
Rhett received a DreamSpring loan to help pay for a build-out of the raw space and hire two employees. Long term, he said, the loan achieved so much more.
"It wasn't just the gallery being able to keep the doors open or me being successful with the endeavor; that was just Step 1," he says. "Now, artists have an outlet for their work. They have income."
"That loan is one of the main reasons that the gallery is what it is now," Rhett says, "representing about 20 indigenous, non-indigenous and Latinx artists, and employing four people."
In March 2020, the gallery got a new name to reflect the artistic and economic harmony that Rhett's business holds space for — Gallery Hózhó, which comes from the Diné Navajo word for balance and beauty.