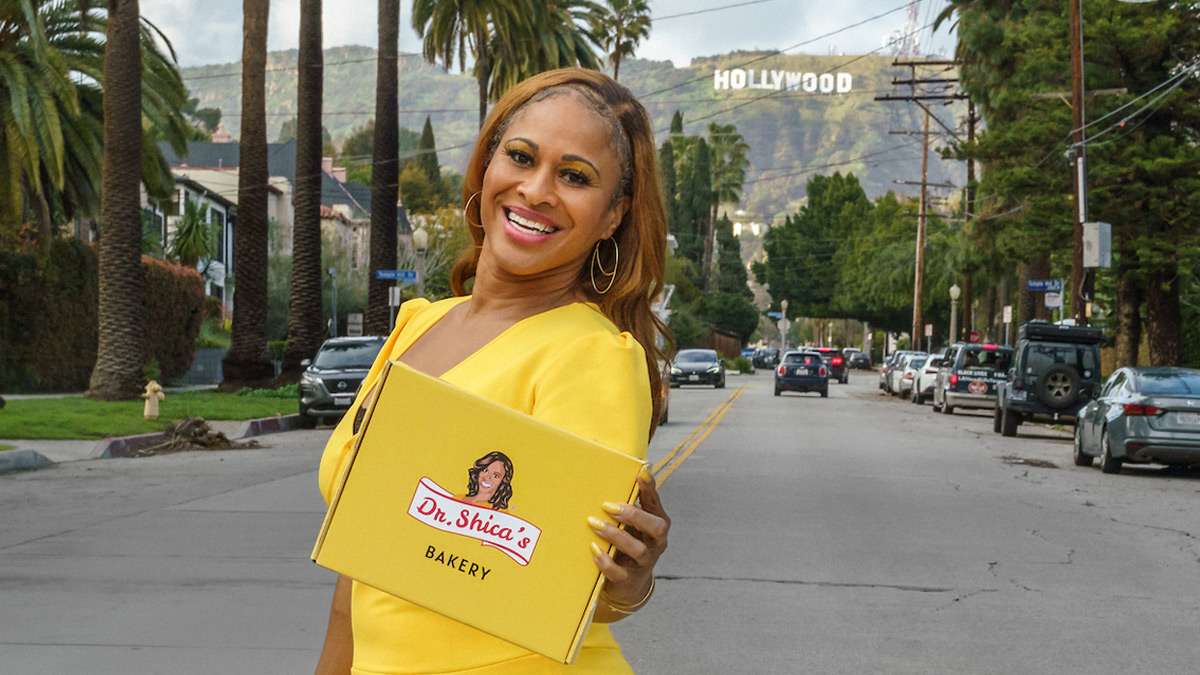 Dr. Shica Little
Owner of Dr. Shica's Bakery in Los Angeles, California
Dr. Shica Little is on a mission to share her Southern roots with the United States one guilt-free treat at a time. "You know, in the South we like things to be rich and decadent — but that doesn't always equate to fattening, or it doesn't always equate to unhealthy," she says.

"It equates to just using things that we've always made desserts with at home, which are just wholesome ingredients without all the high-fructose corn syrup, without all the fake items that really don't need to be in your food."
That's the driving force behind Dr. Shica's Bakery. Her gourmet bakery business produces traditional and vegan desserts that include fresh cookies and Almost Famous Brownies; cake, cookie, and brownie mixes; a menu partnership with Kevin Hart's vegan Hart House restaurant chain; and most recently, shelf-stable cookies coming to a supermarket near you. Dr. Shica's Bakery gourmet desserts are so popular with vegans and non-vegans alike, her growing clientele can order treats right from the QVC shopping network.
"Quality and flavor is king,"

Dr. Shica says.

"We want to make delicious plant-based desserts that anybody will like, not just plant-based people."
But producing such a breadth of high-quality products doesn't come cheap or easy. There's packaging and design, sourcing the best ingredients, travel to production facilities, and so much more.

"Everything costs in the lineage of putting a product together from start to finish."

That's why Dr. Shica did her homework and sought out DreamSpring to finance the next phase of her business dreams.
Starting with a low-dollar loan to build up her credit history, Dr. Shica consulted with DreamSpring loan officers to find just the right financing solutions that would scale with her vision. "They were very supportive, but then they also lent their knowledge on which type of loan to get," she says. "We talked about what my plans were, and they helped me make decisions based on that." Dr. Shica used her DreamSpring funds to package and launch her new shelf-stable line of dairy-free, nut-free cookies.
Dr. Shica has a bachelor's degree, a master's degree, and a doctorate in organizational leadership.

She stresses that DreamSpring has proven to be a perfect fit for her business — a sustainable alternative to venture capital that would take a permanent stake in her business or to traditional loan minimums that are too large for her needs

.

Staying in the driver's seat is important to Dr. Shica because she's building more than a bakery brand — she is building generational wealth.
Dr. Shica describes the feeling of envisioning her two grandsons one day walking into a grocery store and seeing their "Gee Gee" smiling back at them from her product labels.
"It's huge,"
she says.
"This is the company that we want to build upon and one day be a Betty Crocker or similar to a Duncan Hines and say, 'This is the African American, black-owned business that actually started this.' So that's my goal. That's what inspires me to be better every day, and to have as many products in the baking business that I can."