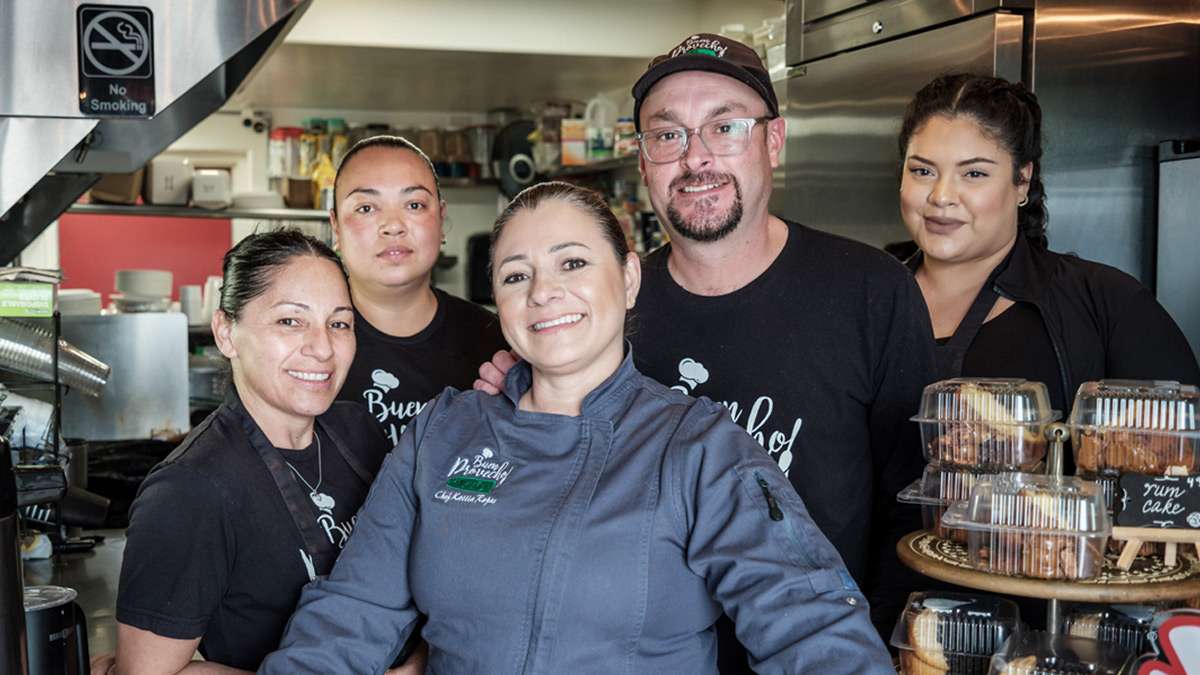 Kattia Rojas
Owner of Buen Provecho Albuquerque in Albuquerque, New Mexico
Buen Provecho Albuquerque is the only restaurant in New Mexico and one of only a handful in the United States that is 100% dedicated to "the taste of Pura Vida" — the flavors of Costa Rica. The restaurant, operating out of a charming space at El Vado open air-food hall in Albuquerque, is a labor of love for chef and owner Kattia Rojas.
"Buen Provecho is my dream,"
she says.
"It's my baby."
Today, Kattia enlists 15 part-time staff to help her serve up to 400 plates a day from her restaurant, run a catering operation, and hand-roll tamales available for mail order across the country from a commissary kitchen. But in the beginning, it was just Kattia and her devoted husband and business partner, William, dishing out Costa Rican specialties at area farmers markets.
With a creative streak a mile wide and a zest for delighting her customers, she expanded her market menu week by week.
"We started with tamales but then I said, 'Oh! I think I can bring pastries.' And then, 'Oh! I think I can bring jams,' and then 'Oh! I think people will love my dessert.' So by the end I had like 30 different products in my little, tiny car,'"
she laughs.
"And every week was a task to load everything and go to market and come back with no space."
She and William bought a van with their savings. But the van was just the beginning. In 2016, Kattia approached DreamSpring for a $7,000 loan to equip her new van with ovens, generators, and custom logo wrapping, and build out a website. "You were the first people that helped us when we needed it," she says. With an investment in her business from DreamSpring, Buen Provecho's sales sky-rocketed. "What I love about you guys is you want to help people be a success."
Kattia describes the simplicity of filling out her DreamSpring application and working with a loan officer whose first language is also Spanish. "What you do is unbelievable — it made the process really easy," she says. "If you have to do it in Spanish, you can have somebody that can help you in that way, too. And you have your money super-fast, so I couldn't believe that either."
In 2018, Kattia found a permanent home for Buen Provecho. The space at El Vado has a small kitchen footprint and is heavily reliant on seasonal traffic, but she couldn't resist the location. Its white adobe walls and wooden vigas reminded her of the hotel that her grandparents used to operate in Liberia, Costa Rica. It's a tight space at times with her employees nimbly moving between 14 tables packed with customers, but it all feels like family to Kattia.
"I'll always say I grew up eating these foods," she says. "My grandma and my mom used to cook for me, so for me it was a present eating this food. Now I transfer that to my customers; I want them to feel that my food is my present to them."
Like so many restaurant owners in 2020, the pandemic forced Kattia to temporarily shut down Buen Provecho. After two months of closure — and making sure her staff received a paycheck through it — she needed capital to rebuild her inventory. When the time came to re-open, Kattia knew she could again rely on DreamSpring to furnish the capital for the fresh and colorful ingredients she's built her reputation on. Now her sales are four to five times what they were before, and she's looking for a second location to bring Costa Rican cuisine to even more customers.
"I never planned to be a chef, I never planned to live in United States, I never in my life thought that I was opening a restaurant. But life surprised me beautifully because I just love what I do. Every day is a blessed day,"

she says through happy tears.

"When I turn the radio on at Buen Provecho and I see all the desserts and all the food ready for my customers, I say, 'Oh my gosh, I'm so blessed. This is a happy life — my Pura Vida life.'"