Alice Rodriguez, outgoing chairwoman of the United States Hispanic Chamber of Commerce, brings business, policy, and philanthropic leadership for financial inclusion at DreamSpring
Albuquerque (Oct. 26, 2022) — DreamSpring is honored to welcome Alice Rodriguez as the newest member of its board of directors, taking an oversight role that guides the Albuquerque-based Community Development Financial Institution (CDFI) in its mission and business strategy.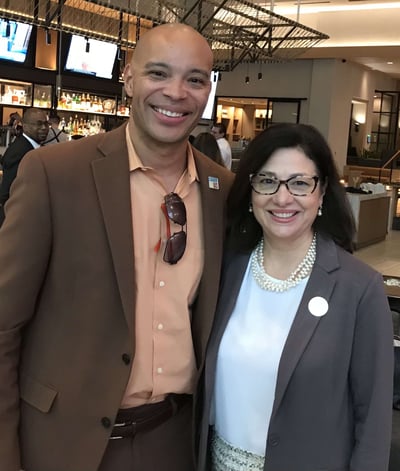 DreamSpring Racial Equity Program Advisor, Mike Langley (left), with Alice Rodriguez (right)
With more than 30 years of extensive banking experience with JPMorgan Chase (JPMC) and its predecessors, Rodriguez applies her financial leadership acumen to several local and national service roles, including acting as Chairwoman of the United States Hispanic Chamber of Commerce from 2020 – 2022.
Rodriguez has received numerous awards and accolades, including three-time recognition among the "Top 50 Most Powerful Latina Women in Corporate America" (2017, 2018, and 2019) by the Association of Latino Professionals. Her advocacy of Latinx entrepreneurship on a national scale will be instrumental to DreamSpring as it expands its lending and outreach efforts across its national service area.
"DreamSpring is an organization whose reputation precedes it for innovation and impact in advancing financial equity among minorities — a mission that is close to my heart," says Rodriguez. "After years of applauding DreamSpring from afar, it is my great honor to take an active role with DreamSpring in building resilient communities and inclusive economies through entrepreneurship."
During her tenure as head of the JPMC Community Impact Organization, Rodriguez provided strategic counsel and served an integral leadership role in community engagement initiatives and localization strategy. In this capacity, she collaborated with Corporate Responsibility to bring together the best of business, philanthropy, and policy efforts to drive inclusive economic growth. In her last role with JPMorgan Chase, Rodriguez led the Path Forward Initiative, a $30 billion commitment to advancing racial equity.
Since retiring from JPMorgan Chase this fall, Rodriguez has focused her considerable business and leadership expertise on board service, including joining the DreamSpring board of directors, and as a co-owner of Kendall Milagro Inc., a boutique home builder with two decades of experience in the Dallas area.
"Alice Rodriguez is a tireless and transformational leader, and her commitment to uplifting underserved entrepreneurs mirrors our own," says DreamSpring President and Chief Executive Officer Anne Haines. "Of the many gifts she brings to DreamSpring, Alice's ability to unite catalytic ideas and people under a common purpose is truly exciting in its potential for creating new opportunities for small business owners nationwide. We are thrilled to have her join the board."
With the addition of Rodriguez, the DreamSpring board of directors now comprises 10 highly esteemed and impactful leaders from across the U.S. business community, each devoted to advancing financial inclusion for underserved small business owners.
---
DreamSpring is a nonprofit community lender dedicated to eliminating systemic wealth inequities and accelerating the economic inclusion and strength of underserved communities. Founded in 1994, the organization provides rapid access to capital and customized wrap-around support to the most vulnerable small business owners in 27 states, focusing on communities including people of color, women, low- to moderate-income earners, people with disabilities, and start-ups. To date, DreamSpring has issued more than 42,000 loans totaling over $465 million to small businesses that support an estimated 72,000 jobs. Learn more at DreamSpring.org.
For Immediate Release
Contact: Laura Marrich, Senior Communications Specialist
lmarrich@dreamspring.org | 505-456-0104